AWP Portable Water Purifier
Product Description
Removes Bacteria 99.99% and Heavy Metals!
Everyone should have an AWP Portable Water Purifier! This Portable water purifier removes bacteria & heavy-metals up to 99.99%! Because you never know when disaster will strike, and leave you without potable water. You can take it camping and hiking too. If you come to a river it will remove all bacteria from the water and make it drinkable. It is an easy-to-use sport bottle too!
Great for Camping!
Great for Biking!
Great for Your Family's Survival Kit!
Fast & Easy to Use!
The Ceramic Filter Removes All Bacteria and Viruses!
The C-1 ceramic filter in the Portable .01M Water Purifier will completely clean even lake and river water and make it drinkable immediately! There is no boiling necessary with the PureEasy Water Purifier Filter to remove 99.99% of all pathogens! [See lab reports, attached.] The dual-ceramic filter membrane cartridge will remove virtually all bacteria, E-Coli, viruses, algae, fungus, cysts, worms, dusts, or biological particals of any size! The GAC carbon and patented, nano-cluster-media inside the filter will remove heavy metals, odors, cloudiness, tastes, and some chemicals.
Features of the AWP Portable Water Purifier
Assembly is Easy!
Easy to Use!
Convenient Storage Bag
Cleaning is Fast and Simple
AWP Portable Water Purifier Assembly:
The black activated carbon filter screws onto the lid.
The C-1 ceramic filter pushes into the black filter until they are snug.
Give everything a gentle rinse.
Replace the lid and you are ready to go!
Directions for Use:
Pour any water into the bottle [even untreated river or lake water].
Screw the lid on.
Close the air valve [clockwise] near the rubber bulb.
Squeeze the bulb until water starts to flow out of the spout hose.
Continue to squeeze if needed to keep the water flow going.
Open the air valve any time you want the water flow to stop.
Drink clean, purified water!
If it starts to become difficult to pump the water through, then it's time to clean the C-1 ceramic filter. Remove the C-1 ceramic filter and lightly scrub with your fingers or with the abrasive paper that is supplied. Don't over-do it, just a light once-over should work. Once the outer layer of scale is off the water will pump through the filter freely again. If needed, repeat the process. Eventually after years of use, the C-1 ceramic filter may wear thin from repeated scrubbings. That would be the time to replace it.
When not in use the convenient storage bag allows you to conveniently store and protect the Lake & River Water Purifier Sport Bottle.
We Suggest You Buy 2!
It is suggested to replace the white [ceramic] filter if it breaks. That's why we think it's a good idea to buy 2. That's why we give you half off your second AWP Portable Water Purifier.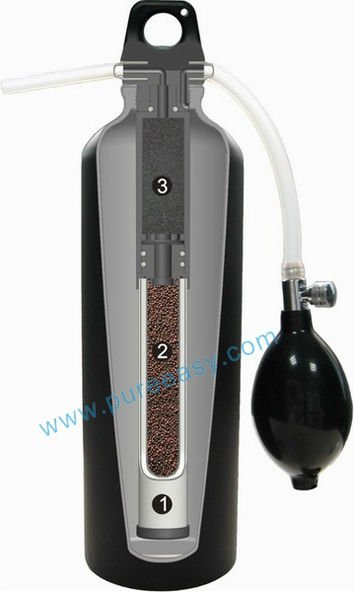 Specifications
Output flow-rate: About 1/2 liter per minute.
Weight: 230 grams
Dimensions: 7.3 x 26.5 cm
Material: Stainless steel, ABS plastic, Ceramic, Nano-metal clusters filter media, Activated carbon.
Check out the demo of this below:
Find Similar Products by Category
Customers also viewed