Posted by Alkaline Water Plus on 16th Apr 2015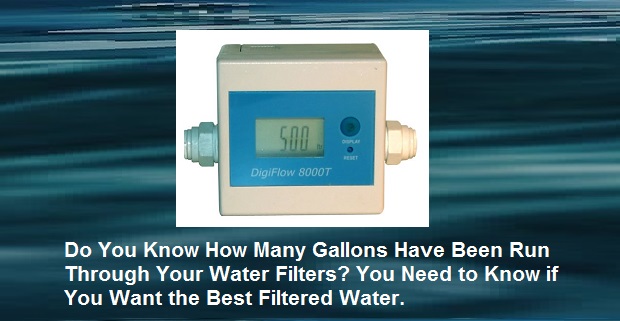 Many water ionizers and most other water filter systems need the DigiFlow 8000T to accurately measure the amount of water that has gone through the filters. How else will you know if you're getting the best filtered water? For instance if you have the Enagic SD501, the Alkaline Ionizer Purifier Energizer, or other device that has no filter counter you will not know exactly how much water your water ionizer filter has filtered and so can only guess at the right time to change the filter. The Enagic company suggests to change the filter yearly, but for some people "yearly" may be after filtering 1000 gallons and for others it may be after filtering 10,000 gallons. Big difference.
The DigiFlow 8000T is a simple water filter meter that measures the water filtration: amount of water filtered, days since last filter-change, and flow-rate of water as you're pouring it. It's a handy tool for anyone who cares about getting the best water filtration for their water. It uses a battery which comes with it and is rated to last for two years. The alarm will ding if the battery needs changing. It will also alert you when your programmed amount of gallons or days is coming close to an end [giving you plenty of warning to order your replacement filter].
Customers have been asking us for economical and easy-to-use water filter counters/meters for years. We were at a losss as to what to tell them until we found the DigiFlow 8000T. Other stores on the internet sell the DigiFlow 8000T, but the fittings at each end were the wrong size and type, the directions were poor and the customer support was non-existant. Alkaline Water Plus decided to import this product in order to help our customers in the following ways:
1) Give our customers the best possible price, and
2) Give our customers the exact product they need. We contracted with the manufacturer to have them professionally install 1/4″ quick-connect fittings onto each end of the DigiFlow 8000T. This makes it an easy job for anyone using 1/4 inch water filter hosing to install it. Just push the hose in at each end and you're done.
3) We've also posted on Youtube a video showing how easy it is to program and use. Here it is: