Water Ionizer Reviews
Honest Water Ionizer Reviews of the Most Popular Alkaline Water Machines
The integrity, accuracy and thoroughness of our water ionizer reviews are things we take care and pride in. Below, you will find my personal reports and recommendations for water ionizers based on my 2 decades of experience with the many brands and styles of water ionizers.
For customer water ionizer reviews, refer to the product pages. On this page you will see my own personal water ionizer reviews. I also include my advice to anyone who is researching water ionizer review sites to help them spot dishonest and deceptive websites.
At Alkaline Water Plus, we take accurate water ionizer reviews very seriously.
Beware of
Fake

Water Ionizer Review Sites!

Water ionizer reviews sites are often misleading and confusing. Several fake water ionizer review sites are collectively owned by the same couple of companies. In the common rules of better business, businesses giving awards or claiming fair and honest reviews should not hide their identities. However almost all water ionizer review site companies do hide their identities. When I saw so much deception, I realized just for my own knowledge I needed to expose the identities of the most popular water ionizer review websites. These ten sites, below, all came up as deceptive. They use a form of persuasion and trickery that looks VERY authentic. Someone visiting any or all of these sites may leave with the perception that they have now done their due-diligence. What they do is create poor reviews for their competitors' products to dissuade visitors from doing anything but purchasing their brand of water ionizer.
Some examples of deceptive water ionizer review sites:
Water Ionizer Expert: This water ionizer review site belongs to Lifeionizers
Water Ionizer Machine Reviews: This water ionizer review site belongs to Bawell
Water Ionizer Pure Reviews for Pure Water: This site belongs to Tyent
Ionizer Research: This water ionizer review site belongs to Tyent
Editor's Choice Awards: This one belongs to Tyent
Winner - Water Ionizer of the Year Awards: This water ionizer review site belongs to Tyent
Alkaline Water Ionizer Reviews: This water ionizer review site belongs to Lifeionizers
The Ionizer Source: This one belongs to Lifeionizers
Best Water Ionizer Reviews: This water ionizer review site belongs to AirWaterLife
Water Ionizer Reviews: This water ionizer review site belongs to AirWaterLife
The "Water Ionizer of the Year" Gimmick
Among the various water ionizer reviews gimmicks is this deceptive technique: the dishonest water ionizer retailer awarding themselves "Water Ionizer of the Year". Many customers fall prey to this technique simply because it's been made to look so official. Tricks, such as these can be seen at waterionizer.com, alkalinewater.com and ionizerresearch.com. They all have been uncovered and proven to be false.
The proof of ownership of these sites is pictured below. The gimmick is to hide their true identity and pretend they are an independent company with no agenda but to help the customer. The website,which gives the "Editor's Choice Water Ionizer Reviews Awards", used to be openly registered to Tyent USA. Now their identity is being hidden by a private proxy. The site gives awards for "Ionizer of the Year" to Tyent (which is themselves, but made to look like it's an independent company with no ties to them.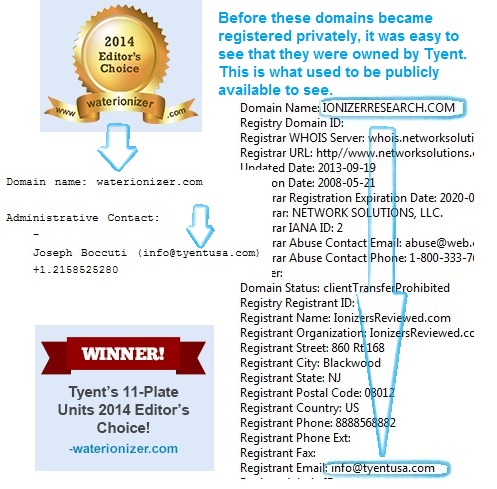 How to Expose Fraudulent Water Ionizer Review Sites Quickly and Easily
Find out WHO is writing the review. Click on the "About us" page and determine if the owner of the site clearly states their identity: name, address, phone, company, and affiliation, or you can look them up on the WHOIS website to see if they are they owned by proxy. Owned by proxy means they don't want their identity known. That's bad news and a red flag on that water ionizer review company. You can then know not to trust the water ionizer reviews on that site no matter how many good things they say about one brand and bad things they say about other brands. [Note: I have found this to be true in every case so far.]
Real Water Ionizer Reviews
Real water ionizer reviews are valuable, and we need them. I have published my reviews, below. My customers have published their reviews on the various product pages. You at least are going to get the straight information without hidden tricks from any reviews posted on this site.
What Makes My Water Ionizer Reviews Different?
The alkaline water ionizers reviews that I have provided here are based on 20 years of experience working with more water ionizers than I can easily count. The water ionizer information I give you is tested in full - or I don't list it. Because of my years of experience, I can say that there are many quality water ionizers available - there simply isn't a "Best alkaline water ionizer," but there are many fine options.
There are many unscrupulous water ionizer distributors who make use of fake water ionizer reviews. This is frustrating to me personally, as I know the benefits of a good waterionizer and I see no need to engage in phony marketing tricks.
My water ionizer testing shows there is no "one feature", like plate size, that can determine which is the best water ionizer. Hundreds or even thousands of tests have shown me that some ionizers simply have a better overall design than others. Bigger is definitely not always better when it comes to electronics [and that includes the size or even number of the electrode plates]. More or bigger plates do sometimes enable a faster flow rate of water coming out of the water ionizer, however this may also mean a poorer quality filtration and ORP (antioxidants) result.
I have made it a point to focus on results when it comes to water ionizer comparisons and reviews. I demonstrate all the details about each water ionizer on my Water Ionizer Comparison page, and encourage you to learn about them so you can decide for yourself what's really best for you. It's similar to buying a car. There is not just one "right" or "best" brand. I help you to find the important features among the different brands so you can make the right decision for you. Here are the main important factors I would consider when choosing a water ionizer.
Manufacturer: Manufacturer: Location, certification and reputation of manufacturer can make the world of difference when choosing high-end electronics. For instance, China has quality control issues, yet Korea and Japan are excellent with their electronics manufacturing. Also, in Korea and Japan water ionizers are treated as medical equipment and this makes a huge difference in the quality standards that manufacturers must stand by.
Testing: Overall results of testing. range of pH and ORP [measurable abundance of antioxidants] per unit of pH produced.
Filtration: Quality of filtration [as tested by independent laboratories preferably].
Quality of Parts: Quality of construction and parts will be a good indicator of how well your water ionizer will perform and last.
Warranty
My Own Alkaline Water Ionizer Reviews:
Alkaline Water Plus has done water ionizer reviews for many years. I have listed reviews of about 20 water ionizers briefly below. I have actively sought and tested the best, most popular water ionizers in order to present the most accurate, non-biased, scientific water ionizer machine reviews possible. My water ionizer reviews, below, are in alphabetical order, by company, for easy reference.
AirWaterLife's Aqua Ionizer Deluxe Water Ionizer
The AirWaterLife Aqua Ionizer Deluxe water ionizer is made in China. I tested the Aqua Ionizer Deluxe water ionizer: it has an attractive appearance and performs fairly well. I decided not to carry it for these reasons. Note: AirWaterLife sometimes calls themselves Alive Water Ionizers. -- It's the same though.
The two main problems I had with the AirWaterLife Aqua Ionizer Deluxe water ionizer were:
1. The Aqua Ionizer Deluxe is Chinese-made, which may account for the fact that some of the parts are cheaper than Korean-made ionizers, with some plastic rather than stainless steel parts, such as the flex-hose & tee-connector.
2. The AirWaterLife ionizer requires a 15-second wait prior to every pour of ionized water. This is a waste of both time and water. This also creates the risk that younger children or anyone not paying attention could accidentally pour acidic water in their glass, thinking it was alkaline drinking water.
You can see my full review of the AirWaterLife Aqua Ionizer Deluxe here.
Beware of Deception: The AirWaterLife company claims to be the only company that uses safe plastics. This is simply untrue and has been proven many times [yet the company still uses the statement on their site.] NSF certified plastic hosing is the best, safest water hosing you can use, and all water ionizers I sell use it. The AirWaterLife company also gives other false or misleading information on their website, such as claiming that Jupiter water ionizers add chemicals to the water. of which the entire opposite is true.
This is One of Their Fake Water Ionizer Review Sites: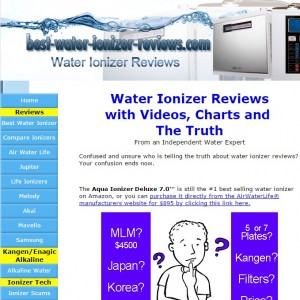 Ayana Water Vitality Round Disk Water Ionizers [AKA: Varunizer]
The Ayana water ionizer company gives the impression that their Vitality Round Disk Water Ionizers are superior to their competitors, however that is not at all the case. Read more in my article about the results of my Ayana Vitality water ionizer testing.
These water ionizers are made in Taiwan and imported into Canada. The testing we did of their Vitality water ionizer showed it was able to ionize, but is a bit inferior in its ionization potential. The claims that the machine could boost ionization with the sodium port were particularly disappointing. Calling customer support and attempting to trouble-shoot this feature was of no avail.
Beware of Deception: Ayana Water claims to be able to create super acidic water with their single-plate water ionizer. Tested to be untrue.
Ayana is a poor choice in water ionizers.
Bawell Water Ionizers
Bawell is a water ionizer importer of a Chinese brand water ionizer. The Bawell company has posted "their" address on their site, but it turns out to be a cover-address going to the UPS store of Bocca Raton, Florida.
In my testing, the Bawell Fountain water ionizer was able to produce alkaline water but the ORP was poor. My full report and review of the Bawell ionizers can be read here.
Bawell is a poor choice in water ionizers.
Chanson Water Ionizers
Chanson Water Ionizers are compact, programmable, water ionizers and they have 10 Year Warranties. The best of the Chanson water ionizers is the new Miracle-Max water ionizer, which has a flow-control knob and extra-large mineral port. Other Chanson machines are the Chanson Miracle and Chanson Miracle Max. Chanson Water Ionizer Company in Taiwan has been making water filters for 30 years and water ionizers for over 10 years. Dr. Robert Young, author of pH Miracle, endorses Chanson water ionizers.
The small filter of the Chanson Miracle ionizer is probably sufficient for people who already have excellent water quality, however if you have some of the following: sediment, iron, heavy metals, Chloramines, Fluoride, Chromium 6, pharmaceuticals, etc. in your water, then the C3 prefiltration system is recommended by the Chanson company. The Chanson company does not sanction doing a "vinegar wash" to clean the plates. They have their own citric-acid wash that they recommend to use every 3 months. Your warranty may be void if you have hard water and don't do a citric acid wash regularly as suggested.
Chinese Water Ionizers Reviews
Watch out for tricks used by Chinese importers, who often fail to tell you where their water ionizers are manufactured (and hope you don't ask). I've seen a trick used recently of warning you about the plastics in other water ionizers. Any water ionizers made in Korea or Japan have to use food-grade, BPA free plastics, so the warnings are for other Chinese-made water ionizers. However such focusing on their "superior" plastics [falsely implies that all other water ionizer companies don't use good plastics]. The main issues with Chinese imports are that their electronics and plate-quality are simply not trustworthy. There is not sufficient quality control in China mainland. Taiwan, though, is a little better. One problem with water ionizers is that they require platinum, which is an expensive metal - more so than even gold. Without platinum, or when using a platinum alloy, the ionized water will be far less efficiently ionized. Health concerns may result from the use of alloys rather than pure platinum as well. It may have sufficiently high pH, but will lack the high levels of antioxidants that are produced by ionizers with platinum plates - which account for half the benefits of ionized water] I would not sell a water ionizer from a country that could not be trusted for their manufacturing integrity or who had a bad history with electronics. I highly recommend you buy your water ionizer only from countries who at this time have governmental controls, such as the Korean FDA or the Japanese Ministry of Health, on the proper manufacturing of their countries' water ionizers. The water ionizers I sell on this site are all fully checked out and certified as efficient and safe by at least one of these agencies.
Enagic Kangen Water SD501 Water Ionizer
The Enagic SD501 Water Ionizer is a strong ionizer. It produces a constant 235 watts of power which activates its very large plates. The machine has been produced for 15 years or more without change. The perks of the high wattage are you can get a pretty fast flow-rate with the Enagic alkaline water machine as well as a decent range of high/low pH. The downside of the constant high wattage is that the plates are under heavy stress from the high power requirements and the corrosive nature of salt. The plates are subject to abuse if you use the "strong acidic" setting too frequently and/or don't flush the ionizer properly after pouring strong acidic or strong alkaline water. Another downside to the high watts is that the machine must produce a very strong flow to keep it cool, which reduces filtration effectiveness. When the flow is not sufficient, a voice activates to let you know to increase water flow. The ionizer will not ionize when the flow rate is too low. This is a protective mechanism to ensure the plates don't overheat or melt the platinum,so this voice prompt cannot be ignored. The Enagic Kangen Water ionizer will most likely last 20 or more years and will work well so long as the plates aren't corroded with sodium and are reconditioned to remove scaling periodically by sending the machine into the Enagic company for special cleaning. The Enagic company also recommends using their cleaning cartridge every 3 months to keep the plates in good working condition. The warranty is 5 years parts & labor.
Beware of Deception: The Enagic company itself doesn't do this, but many of the thousands upon thousands of MLM distributors engage in an all out "war" against every other brand of water ionizer. Beware of what you are told by an Enagic representative about their competition. From my vast experience in dis-proving the many bazaar statements, which I've been witness to, from Enagic reps: whatever you're being told about the other competing water ionizer companies is probably not true. It doesn't mean the representative is trying to lie to you, it is just the fact that they have been told lies over and over by their up-line and at meetings. They most likely believe their "concerns" about all other brands are true.
Impart Group:
Enagic and Impart Group stem from the same company. The Impart Group engineers disagreed with Enagic's "bigger is better" ideas and stood fast to the long-standing, sound principles they knew from 20 years of experience in making water ionizers. Impart's 5-large-plate Excel IE-900 performs as well in every way to the Enagic's SD501, but at about half the cost. The Impart Groups water ionizers are made well, using sound engineering. Impart water ionizers come with a 1-year full parts/labor warranty.
Excel MX-99 or IE-900: This water ionizer tests the equivalent of Enagic's SD501 but has better electronics. The water ionizer has five plates, which the Impart Group explains that because the spacing is important to the performance and the Excel MX-99 is better than Enagic's design. The IE-900 was the earlier version of the MX-99.
Excel MX-55 or IE-500: This water ionizer is similar to the Excel M-99 or IE-900, except it has 2 fewer plates. The performance is good, though, and its strength is the ability to give great drinking levels of ionized water. The earlier version of the M-55 was the IE-500.
Jupiter Water Ionizer Reviews:
[Melody II, Vesta H2, Athena Classic, Athena H2, and Ultra-Delphi] are very well-built, easy-to-use water ionizers and they come with lifetime warranties. The superior engineering and design makes them very efficient and capable of producing a wide range of ionized water with very high in ORP at all levels of pH. Jupiter Company has been around the longest of all the water ionizer companies. The Jupiter company continually upgrades their water ionizers to maximize their performance. All Jupiter Water Ionizers have outstanding plate design and efficient plate cleaning. In addition, the Jupiter Melody, Athena and Ultra-Delphi water ionizers have superior, trouble-free, continuous self-cleaning of their electrode plates. Another advantage of the Jupiter water ionizer design is the sturdy materials that are used for inner construction. The water lines, water cell and even the padding between each plate is made of sturdy, durable material which will not be damaged by vinegar washes. The Jupiter manufacturer sanctions the use of vinegar to periodically wash the insides of their water ionizers. Not every manufacturer sanctions this.
Example: The Jupiter water cells are so excellent that the 135 year-old Tennant company [worldwide leaders in the manufacture of industrial cleaning equipment] chose the Jupiter water cell out of all of the brands to use in their eco-friendly industrial ionizing cleaning equipment.
Jupiter also has the best water filters of any other water ionizer company. Jupiter water ionizers come highly endorsed by scientists working in the field of ionized water.
Jupiter Athena Water Ionizer Review: The Jupiter Athena water ionizer has existed for nearly 10 years and has been upgraded several times since it first appeared on the market. The last upgrade was in 2015. The plates have mesh applied to the solid plate surface, which increases the surface area about 3 times more than its physical size. The advantage to this design is that although the plates are fewer and smaller, the increased surface area ensures efficient use and distribution of electricity. The mesh design is combined with the DARC, double-automatic-reverse-cleaning, which provides continuous, excellent cleaning of the Athena's plates to keep calcium from becoming embedded into the grooves of the mesh. The Athena water ionizer performs best at about a flow rate of 1.5 to 2 liters/min. This flow rate provides the best filtration of any water ionizer. The Athena, because of its very efficient water ionization, gets excellent ORP per unit of pH. I expect the Athena will last at least 20 years if the machine isn't dropped or otherwise abused. The Athena can be converted to an under sink water ionizer with the purchase of an under sink kit. Jupiter water ionizers come with limited lifetime warranties.
Melody II Water Ionizer Review: The Melody underwent a name change and complete upgrade. It has always been a great, sturdy water ionizer, but now it's even better. I expect the Melody II will have a long, 20-year lifespan provided that it isn't abused. The Melody water ionizer uses automatic, continuous cleaning, which is the most effective system for keeping the plates from forming any kind of calcium build-up. The Melody ionizer has always compared favorably with other water ionizers, even those that are three times its price. It gets a good range of pH and ORP consistently, and come with a limited lifetime warranty.
Ultra-Delphi Under-Sink Water Ionizer: The Ultra-Delphi Water Ionizer has just been upgraded in 2015 with more powerful power booster functions, is designed to be used as either an undersink ionizer or a countertop ionizer, and has a functional real chrome faucet. The Ultra-Delphi is essentially the under-sink version of the Athena. All of the important features are the same other than the addition of the chrome faucet. Jupiter water ionizers come with limited lifetime warranties. See more at Jupiter, above.
KYK Water Ionizers
Dr. Kim Young Kwi [Director of the Water Science Research Center in Korea and author of the Book, Water for Life] originally designed the KYK water ionizer with the dream of creating a machine that would produce perfect water for drinking, and he has won awards for his water ionizer research and his design. However, because of the instability of the KYK importers we no longer offer KYK water ionizers or filters.
LifeIonizers Water Ionizers Review
I used to sell Lifeionizers until I found that I could not trust the Lifeionizer Company.
In addition, when I tested the Life ionizer I was surprised to see how deficient it was compared with the claims made by the Lifeionizer Company.
Beware of Deception: Lifeionizers, owned by EarthTradeWater, owns many water ionizer reviews and sales websites under other assumed names...all pointing you to their water ionizers and away from their competition.
Example of Fake Water Ionizer Review Site owned by Lifeionizers: Here's an example of one of the many dozens of fake water ionizer review sites which are secretly owned and attempt to point shoppers to the Lifeionizers company. The website is owned by EarthTradeWater, which in turn owns the Lifeionizers company. Creating bunches of websites [water ionizer review sites] pointing you to their water ionizers is one of the many deceptive tactics used by dishonest companies.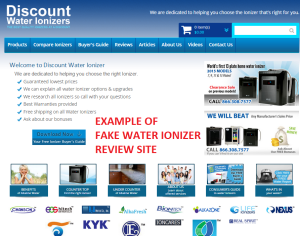 Natural Alkaline Water
Some companies compare their water filter systems to water ionizers when there is simply no comparison. A water filter system which uses a vortex to spin the water through after being filtered may be okay, but is not at all the same as a water ionizer. After thorough testing I have even found them to produce no (zero) antioxidants. I usually ignore companies who use sales tricks or "hype", but occasionally call them out if in my opinion they have overstepped the bounds of proper comparisons. Read more: Natural Alkaline Water
Nexus Water Ionizers Review
Nexus water ionizers are produced in a large, reliable, Korean factory which works with LG Electronics and other big name brands. They are an outstanding manufacturer of high-end electronics, including water ionizers. Nexus makes very efficient water ionizers which get a good range of pH and ORP. Nexus Water Ionizers are very well-built water ionizers. The machines are certified as medical devices and used by hospitals in both Korea and Japan. The water lines, water cell and even the padding between each plate is made of sturdy, durable material which will not be damaged even by vinegar washes. The Nexus Company has been working with Japanese and Korean hospitals for over 15 years (since 2000).
Nexus Smart vs X-Blue: The main differences between the Nexus X-Blue and Smart water ionizers are:
1) The continuous cleaning feature of the Smart water ionizer vs the traditional, automatic-cleaning, of the X-Blue.
2) The Smart also has 7 plates and the power can be boosted up to 235 watts vs. the X-Blue's 5 plates and 110 watts.
Both water ionizers are made of the highest quality materials and workmanship. Alkaline Water Plus imports the Nexus brand water ionizers directly so that we may pass the savings onto our customers. We realized years ago that in order to extend our line of high-quality water ionizers to accommodate for our customers' varying budgets we would need to import directly.
U-Blue: The Nexus undersink model, the U-Blue, is the same as the Nexus X-Blue except it was designed to be installed under the sink. After selling this machine for a couple of years, we decided to discontinue it. The problem with Nexus is their water cells don't always hold up against constant water pressure for more than a few years. Constant water pressure eventually has caused some of the water cell to leak, which is a major problem with an undersink water ionizer.
Vesta H2 Water Ionizer Review
Probably the best water ionizer manufacturer in Korea, has created a brand-new Vesta H2 water ionizer. It comes with all the highest certifications and ratings possible, including medical device certification, and is made at a very high-quality Korean facility. My testing of the Vesta H2 Water Ionizer shows it to be very, very good. The self-cleaning inside the water cell is advanced. The Vesta H2 filter options are also quite good.
I expect that the Vesta ionizer will last 20 years or so as long as it is cared for properly. Vesta water ionizers come with limited lifetime warranties.
Tyent Water Ionizers
The Tyent company uses many sales tricks, to make you believe there is no better choice in water ionizer. You can rely on being told they are slashing their prices and offering a bunch of "free gifts". This is their way of making you feel you got a great deal, when in reality they are covering up for an actual lower price. Tyent also owns websites that claim to have nominated Tyent machines as the "Best water ionizers of the year". They have been doing this for the entire time I've known them (about 15 years). They are violating Better Business principles by doing this. I hope someday they get called out for this. It's deceptive trickery.
Tyent USA Water Ionizers [Tyent 7070 Turbo; the 9090 Turbo Extreme, with 9 large platinum-titanium plates] and the MMP11 are programmable to your source water with varying amperage.
Not much is known about the Korean manufacturer. They have been making water ionizers for about 15 or so years. The quality of construction is fair and the faucet of the tyent undersink water ionizer is painted plastic.
Some of Tyent's Fake Water Ionizer Reviews Sites: Watch out for tricks, such as the "Water Ionizer of the Year" awards. These are all phony, because the sites that award them are owned by Tyent. [That fact is demonstrated by the picture, above, in the section called "The Water Ionizer of the Year Gimmick".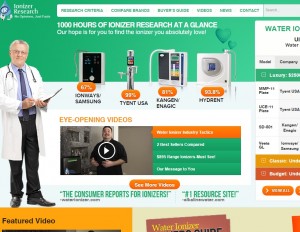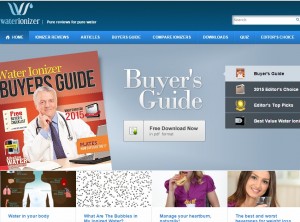 Tyent MMP11, UCE 9000, UCE-11, 7070 and 9090 Turbo Extreme Water Ionizers: The Tyent MMP11, 7070 Turbo and 9090 Turbo Extreme water ionizers all perform about the same as each other. It was this fact that I discovered that made me want to dig further into the tricks being used by water ionizer companies of adding more and more plates to a single, residential water ionizer.
Learn why the addition of 9, 11 or 13-plates in a water ionizer doesn't assist ionization and may even harm it.
Tyent makes effective water ionizers, but they are not likely to remain effective unless you regularly clean the plates. One should do a citric acid cleaning every 3 months if you have a water ionizer that doesn't use DARC double-automatic-reverse-cleaning. Tyent machines don't have this.
Comprehensive Water Ionizer comparisons
I urge you to check out my Water Ionizer Comparison page for a really huge chart and in-depth comparisons of the most popular water ionizers in the USA today.