Vitamin C Shower Filter Replacement
Product Description
Vitashower Vitamin C Replacement Filter!
Neutralizing the chlorine in your water on contact, the Radiant Wash Vitamin C Shower filter will significantly improve the condition of your skin and texture of your hair. Main features:
Capable of working continuously up to 100 hours, regardless of the flow rate or quality of your water, and performs effectively in cold, warm and hot water.
Completely neutralizes all chlorine and chloramine molecules; preventing the molecules from being inhaled and absorbed into your body.
100% organic.
Can effectively de-chlorinate over 20,000 gallons of water.
Works with all standard size pipes and shower heads.
Was evaluated by Western Analytical Laboratories, Inc. (WAL). WAL has been fully certified by the State of California Environmental Laboratory Accreditation Program.
Boosts the immune system while improving skin and hair
A Note on Vitashower Replacement Filters:
The Radiant Wash Vitashower SF-1 Vitamin C Shower Filter has recently been updated. Please compare your shower filter with these pictures. The new replacement filter is Filter-B. All stock of Filter-A is now out. If you have the old Filter-A-type Shower filter housing, please send us a picture of it and the filter inside it and we'll send you a new Vitamin C Shower Filter housing for free with your order for the newer-style replacement filter.
Filter A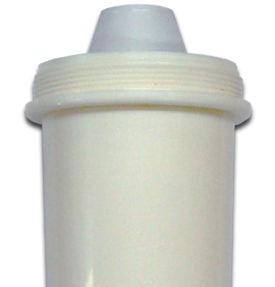 Filter B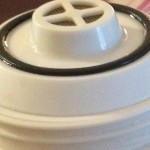 Find Similar Products by Category
Customers also viewed