Blog
Posted by Alkaline Water Plus on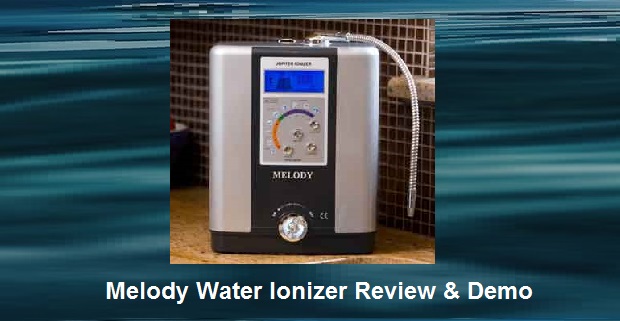 The Jupiter Melody water ionizer is one of my better water ionizers and some people even think it's the best. Why is is so great?
Jupiter Melody Water Ionizer Review
1) The Melody water ionizer is a workhorse. It's very sturdy and reliable.
2) The Jupiter Melody has an advanced, continuous-cleaning system which keeps the plates perfectly clean for the life of the water ionizer.
3) The Jupiter Melody gives great results of pH and ORP.
4) The Melody can be moved easily. It's compact size and sturdy construction makes it one of the least problematic water ionizers ever made.
5) The filtration is outstanding with the Jupiter water ionizers in general.
6) The Jupiter Melody water ionizer has a mineral port. This is great for hard water, because you can put a scale guard insert in there to help keep the water lines and spout free of scaling. It's also great for soft water, because you can then opt to put a calcium insert in there to boost ionization.
7) The filter-changing is a breeze with the Melody ionizer.
The Melody water ionizer is a well-made, mid-priced, water ionizer with 5 solid platinum coated titanium plates. It's best flow-rate for ionization from between 1.2 liters per minute and 1.8 liters per minute. This is slower than some water ionizers, but personally I like the slower flow-rate water ionizers, because when the water flows through the filter slower the toxins have a better chance of being removed.
Here is the Demo of the Melody Water Ionizer in Action
The Alkaline Ionizer Purifier Energizer is one of the better of the non-electric-water-ionizers a cool device which alkalizes and ionizes the water without using electricity. It hooks up to the sink with a diverter, included.Alkaline Water Plus has tested many water-ionizer-devices and is impressed with this one. It hooks directly to your faucet and is easy to use. The Alkaline Ionizer [...]
You will need to be able to program the Vesta water ionizer if you purchase one. This post has everything you need to learn the simple programming steps. The directions in the Vesta water ionizer manual are pretty clear, but I've done this blog to help those who want a little extra help or who would [...]
I keep on testing and comparing new water ionizers with more plates and higher watts than the Athena water ionizer, but I can honestly say that the Jupiter Athena has not been surpassed in all these years! This is actually great news, because it means that a solid, sturdy, tried & true water ionizer …not [...]
I'd like to take a few minutes to go over how easy the Nexus Undersink Water Ionizer is to install and demonstrate how awesomely it ionizes at the same time.Just Look at How Easy the Nexus Undersink Water Ionizer Installation Is! If you plan to install the Nexus Undersink Water Ionizer you should definitely watch this video. It [...]
One of the best water ionizers I've ever tested is the Vesta! I get excited when I see the great pH and ORP results that the Vesta GL water ionizer can easily and quickly deliver. Here's some recent testing I did. The favorite thing I love about the Vesta water ionizer is the fact that it will [...]
Introducing the New Nexus U-Blue Under-Sink Water Ionizer! I just set up the Nexus U-Blue water ionizer under my sink and thought I'd share my videos with you in today's blog.The Nexus U-Blue is an awesome water ionizer! Here are some of the main features that make it outstanding: Beautiful chrome faucet [made with metal and not [...]
Nexus Brand Smart Water Ionizers Tested and Proven – Outstanding! In my recent testing you can see how outstanding the Nexus Smart water ionizer is. I would say that for drinking levels of ionization it produces as good results as most 7, 9 and even 11-plate water ionizers. The design of the Smart water ionizer is [...]
The Alkaline Plus Portable Ionizer Pitcher is a Fantastic Travel Companion! I took the Alkaline Plus Portable Water Ionizer Pitcher by Well Blue with me on an 8-day trip earlier this month, which I was mostly on a cruise ship. With very little time or space that the WellBlue pitcher took up it really made things perfect, [...]
I have only good things to say about the Nexus X-Blue water ionizer! I am very happy with it, but the most important thing is…My Customers Love the Nexus X-Blue! I even have repeat customers, coming to buy more Nexus ionizers for their family members and referring their friends! The Nexus X-Blue water ionizer doesn't have all of the [...]
Cathleen Lograsso
Cathleen was a teacher/principal for 24 years and has been drinking ionized water for about 25 years. She created Alkaline Water Plus to educate people about the benefits of ionized water.
"The very best thing I have ever purchased is a WATER IONIZER!" Cathleen LoGrasso, Owner/CEO Alkaline Water Plus
Subscribe by Email
Get every post sent to your email address.
Categories
Archives
Search
Search results are always reported with two tabs: "Products" first and "News & Information" second.Look for these tabs.