Posted by Alkaline Water Plus on 9th Jan 2016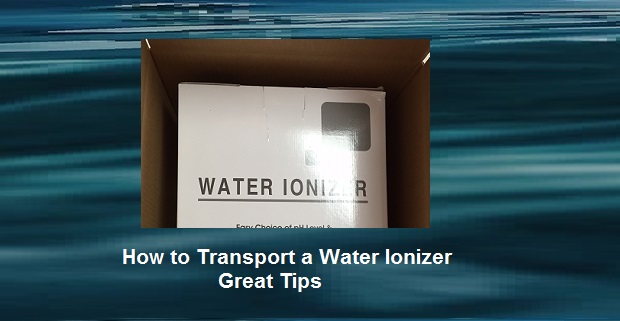 If you own or plan to own a water ionizer you need to know a little about water ionizer care. This post gives some great tips for how to transport a water ionizer. Without fail there will be a time to either take your water ionizer with you on a trip or if you move …or there is always a possibility you may some day need to ship the water ionizer in for repairs.
A water ionizer is an expensive and delicate machine and so learning how to transport a water ionizer is essential if you have one.
Tips to Transport a Water Ionizer by Car
It's actually not too hard if you only plan to transport a water ionizer any distance by car.
First, unhook your water ionizer from its water source. Drain any excess water from the hoses, but leave the hoses attached to the ionizer itself. Then, bring the alkaline water spout, acidic water hose, and water inlet hose all together above the water ionizer and twist or tie them together somehow so they stay up. Put the water ionizer into a laundry basket or storage bin to protect it while driving. Line the basket with towels or other material to cushion it and keep it from falling over. You're now ready to put it in your car and go!
Tips to Transport a Water Ionizer via a Shipping Company
Shipping companies are very hard on water ionizers. They literally throw boxes around and have conveyor belts that allow the box to drop from 4 to 6 feet periodically while in the sorting facility. For this reason, you will want to learn how to transport a water ionizer safely via any shipping company by following the guidelines, below.
The First good piece of advice I can give you for water ionizer care during shipping is to save the packaging your ionizer comes in. Do not throw away the little plugs that come on the water ionizer, the Styrofoam, or any other items used to pack up the water ionizer. This will make shipping your ionizer much easier as you will have all the materials to do it.
Plugging Up the Water Ionizer & Getting Ready to Ship
One of the first things you have to know how to do in order to transport a water ionizer safely via the post office or a shipping company is how to prepare the ionizer to be put back in its box properly.
First, you need to unhook the ionizer from all water sources, and remove the spout and hoses. If you don't remove these things the water ionizer, or its parts, would be more likely to break in the shipping process.
Then thoroughly dry out the machine.
If you're sending the water ionizer in for repairs the tech support team may also request that you take the filter out of the filter port before shipping. If you do this, you should put some paper towels into the port to absorb any excess moisture that may come out during shipping. Excess moisture getting into the electronic equipment could damage it. You should save the filter in a bag in the refrigerator to use when the water ionizer returns.
Once the ionizer is all dried and ready to pack and ship, then you need to put the plugs into the proper holes. Installing water ionizer plugs helps to ensure the safe shipping of a water ionizer. If you have lost them, go to this link to purchase plugs.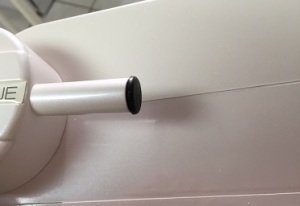 These water plugs are important because if you have any liquid in your water ionizer before shipping, it can damage the box and packing material. It also could damage the electronics inside the machine if it gets wet.
Once this is done, then you can pack the ionizer in its product-box. There are two Styrofoam pieces to hold the ionizer in place inside of the box. These Styrofoam pieces are formed to fit exactly to your ionizer, so be careful when putting your ionizer back in the box, because if you don't do it right, it may not fit and then of course the Styrofoam or box could break and the ionizer could get damaged as well.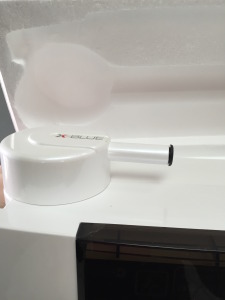 Packaging Your Ionizer in a Shipping Box
When getting ready to transport a water ionizer, ensure that the outer shipping box you use is in good condition. The box should be a bit bigger than the ionizer that you're shipping so that you have room for some packing peanuts. About 2-4 inches of peanuts under and around the water ionizer is perfect for shipping.
This is a crucial step. I have had customers try to send me their ionizers in the product box itself. The result is not pretty! So here is a step by step guide to properly packaging a water ionizer.
Pour a layer of peanuts in the box 2-4 inches thick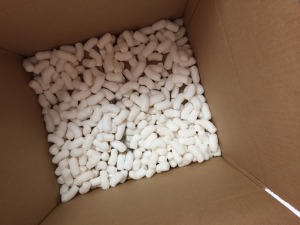 Then put your ionizer in the box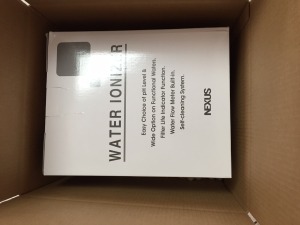 Add peanuts to fit around all edges of the box and fill the box full with packing peanuts. Don't leave it partially empty! Then tape the box shut with plenty of clear packing tape.
Don't put the address on the box if you're sending it UPS or FedEx. They will put a nice, neat label on it for you.
Decide if You Want to Insure Your Water Ionizer in Shipping
The decision to purchase extra insurance is yours, but you should know if damage occurs during shipping then that is your responsibility. No water ionizer companies offer warranties that cover shipping damages.