Blog
Posted by Alkaline Water Plus on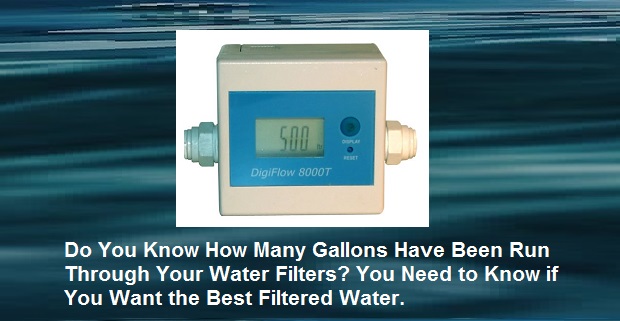 Many water ionizers and most other water filter systems need the DigiFlow 8000T to accurately measure the amount of water that has gone through the filters. How else will you know if you're getting the best filtered water? For instance if you have the Enagic SD501, the Alkaline Ionizer Purifier Energizer, or other device that has no filter counter you will not know exactly how much water your water ionizer filter has filtered and so can only guess at the right time to change the filter. The Enagic company suggests to change the filter yearly, but for some people "yearly" may be after filtering 1000 gallons and for others it may be after filtering 10,000 gallons. Big difference.
The DigiFlow 8000T is a simple water filter meter that measures the water filtration: amount of water filtered, days since last filter-change, and flow-rate of water as you're pouring it. It's a handy tool for anyone who cares about getting the best water filtration for their water. It uses a battery which comes with it and is rated to last for two years. The alarm will ding if the battery needs changing. It will also alert you when your programmed amount of gallons or days is coming close to an end [giving you plenty of warning to order your replacement filter].
Read more about or order the DigiFlow 8000T here.
Customers have been asking us for economical and easy-to-use water filter counters/meters for years. We were at a losss as to what to tell them until we found the DigiFlow 8000T. Other stores on the internet sell the DigiFlow 8000T, but the fittings at each end were the wrong size and type, the directions were poor and the customer support was non-existant. Alkaline Water Plus decided to import this product in order to help our customers in the following ways:
1) Give our customers the best possible price, and
2) Give our customers the exact product they need. We contracted with the manufacturer to have them professionally install 1/4″ quick-connect fittings onto each end of the DigiFlow 8000T. This makes it an easy job for anyone using 1/4 inch water filter hosing to install it. Just push the hose in at each end and you're done.
3) We've also posted on Youtube a video showing how easy it is to program and use. Here it is:
When You Filter Water to Drink Yourself, You Can Control the Quality!To know you're getting healthy-water you should filter the water yourself. In the US tap water is regulated, treated and partially filtered before it gets to your tap. Our water quality controls are not bad. Yes, the water does have some contaminants in it, [...]
Water Ionizer Owners: How to Find and Check Your Water Quality ReportWho Should Check Their Water Quality Report? You should if you want to make sure your ionized water is the best [for you] that it can be.Why Should you Look at Your Water Quality Report?Most water companies treat the water [of course] and it's handy [...]
Our current US drinking standards were set, back in 2001, and municipalities of course try to comply with these. For the most part water companies, nationwide, are doing a pretty good job of meeting the US standards of water filtration. However the EWG [Environmental Working Group] has criticized these US standards, set in 2001, as being [...]
In the United States good water is often taken for granted. In order of importance the quality of air, water and food we consume have everything to do with how long and healthy of a life we will have. In other words, it's important! So, even if you think you know it all already I [...]
Water Ionizers and Reverse Osmosis [RO]A water ionizer will work with reverse osmosis, RO, but you will need to understand a few things about water ionizers & RO in order to make it work.When you hook a water ionizer up to a source that has no or few minerals [such as an RO unit] you [...]
First of all, if you have acidic tap-water there is a reason for you to be concerned. Acidic water, traveling through pipes, can corrode, or leach minerals from them, and your incoming tap-water is likely to have some copper, lead, or other heavy-metals in it because of this.In New England, the water is known to [...]
There is a new filter in town!It's called the UltraWater Filter! The new UltraWater filter is designed using space technology. What that means is that right now, as we speak, NASA is developing better than RO [reverse osmosis] water filter technology [developed to recycle urine and sweat], which of course needs to be filtered well enough, to become [...]
A few weeks ago my father, who has a Jupiter Melody water ionizer, sold his house in South Carolina and moved to upstate New York to live with my sister. He, of course brought his water ionizer with him. He had been getting great, high pH, alkaline ionized water, along with the accompanying health benefits, [...]
Reverse Osmosis is considered one of the best forms of filtration. A lot of people have RO machines that think that they are drinking really healthy water. I would like to shed some light on this subject and relate/compare it to alkaline ionized water, which you would get from an alkaline water machine [AKA… water ionizer].What [...]
Cathleen Lograsso
Cathleen was a teacher/principal for 24 years and has been drinking ionized water for about 25 years. She created Alkaline Water Plus to educate people about the benefits of ionized water.
"The very best thing I have ever purchased is a WATER IONIZER!" Cathleen LoGrasso, Owner/CEO Alkaline Water Plus
Subscribe by Email
Get every post sent to your email address.
Featured Posts
Archives
Search
Search results are always reported with two tabs: "Products" first and "News & Information" second.Look for these tabs.