Blog
Posted by Alkaline Water Plus on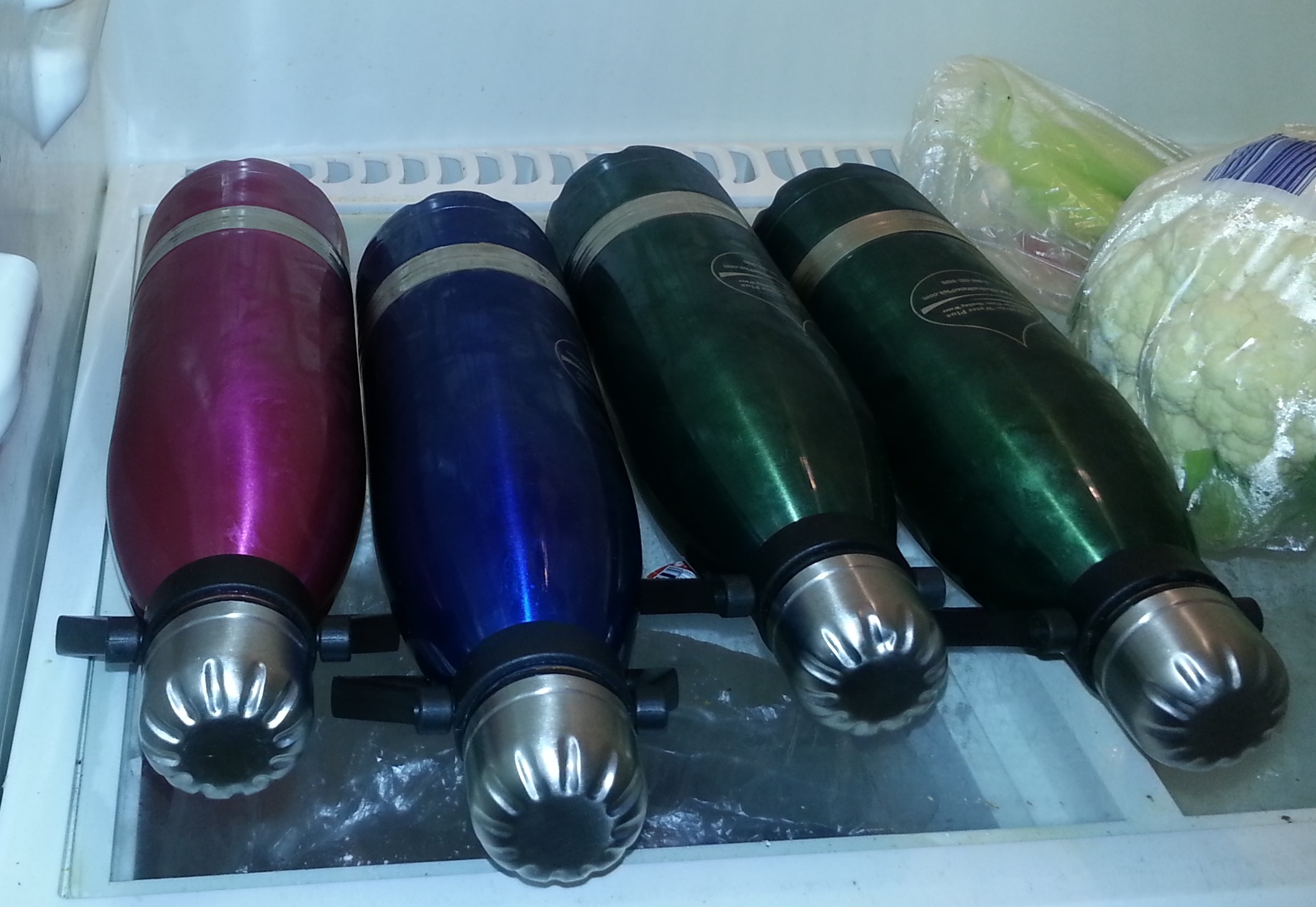 I have done many tests to find out how long ionized water will stay ionized. In this post I'll summarize all of my findings, but first I should mention that there are a few variables, such as type of container you use, so read the entire post to get the whole picture.
Type of Water Ionizer
Does the type of water ionizer effect how long ionized water will last [i.e., how well the ionized water will hold the pH and ORP changes made by ionization]? In this article I compared the Enagic SD501 water ionizer with the Jupiter Melody water ionizer at 4 different pH levels to learn about how long alkaline ionized water will stay ionized. The results showed a few things.
1. The model of water ionizer used didn't make a significant difference in storing ionized water. They both stored ionized water about the same.
2. The level [setting] used did make a difference. The water poured at Level 3 [or Kangen Water 9.5] seemed to store effectively for a longer time with both water ionizers.
Filtered Ionized Water vs. Electric Water Ionizer
This tips to storing ionized water article shows that using the ionized water from the ionizing filter, AlkaStream, now called the Alkaline Ionizer Purifier Energizer, didn't hold its pH or ORP any better than the ionized water from either of the electric water ionizers (the Jupiter Athena water ionizer or the Enagic Kangen water machine). Contrary to some claims that are out there that the ionizing filter devices, that add minerals to the water to make ionized water, supposedly make more "permanent" ionization, it isn't true. After 9 days of storing the alkaline ionized water in mason jars with no air bubble, all samples reduced in ionization levels to about 50% of what they were when originally poured.
Results: No difference in how long ionized water will stay ionized between these types of water ionizers.
There are definitely differences between the electric water ionizers and water ionizer filters, but not in the area of ionized water storage.
Does the Type of Bottle Used Influence How Long Ionized Water Will Stay Ionized?
Yes. Yes, and more yes! The type of bottle used has the biggest single influence on how long ionized water will stay ionized. I have written are the many articles that show this to be true. The results of these many, many tests are
#1 The very best storage of ionized water is using a vacuum stainless bottle that has the type of lid that pushes all air out of the bottle and is double-insulated. There is no other bottle that even comes close to these results.
#2 The next best container effective for ionized water storage is a glass mason jar. Make sure it is the kind that has a two-part lid [a flat piece and then a screw-on piece].
#3 A poor container is a plastic bottle, even one that is fairly thick-walled.
#4 The worst container is a plastic thin-walled bottle, such as the kind that bottled water comes in. The antioxidants in ionized water can escape through the porous walls of these bottles very easily.
#5 An equally-bad water bottle, only more expensive, for ionized water storage is one with a flip-top lid. All gas can easily escape through the gaps in the flip-top.
How Long Does Ionized Water Last?
Ionized water will easily last an hour or two, but if you want to store it I suggest you use the vacuum stainless bottles, mentioned above, which will store it perfectly.
Here's a chart to show you how long ionized water will stay ionized.
| | | | | |
| --- | --- | --- | --- | --- |
| Type of Storage Container | After 3 Hours | After 8 Hours | After 24 Hours | After 3 Days |
| Vacuum Stainless Bottles – Special Lids | No Loss of PH/ ORP | 5% Loss of PH/ORP | 5% Loss of PH/ORP | 5% Loss of PH/ORP |
| Vacuum Stainless Bottle with Slight Air-Gap at Lid | 10% Loss of pH/ORP | 20% Loss of pH/ORP | 30% Loss of pH/ORP | 40% Loss of pH/ORP |
| Hard Plastic Bottle with Flip-Top Lid | 10% Loss of pH/ORP | 30% Loss of pH/ORP | 40% Loss of pH/ORP | 50% Loss of pH/ORP |
| Soft Plastic Bottle with Regular Lid | 12% Loss of pH/ORP | 40% Loss of pH/ORP | 50% Loss of pH/ORP | 65% Loss of pH/ORP |
| Hard Plastic 2 ½ – 5 Gallon Container | 10% Loss of pH/ORP | 30% Loss of pH/ORP | 40% Loss of pH/ORP | 50% Loss of pH/ORP |
| Glass Mason Jar | 10% Loss of pH/ORP | 10% Loss of pH/ORP | 15% Loss of pH/ORP | 20% Loss of pH/ORP |
Is it Better to Just Drink Tap Water vs Ionized Water that is Several Days Old?
Drinking ionized water that is days old, even if stored in an inferior container, is still better than tap water, for sure. It's filtered, plus the pH and ORP are still better than tap for sure. Here are some pictures I took during a recent trip of the pH/ORP of the hotel tap water vs improperly stored ionized water vs freshly ionized water.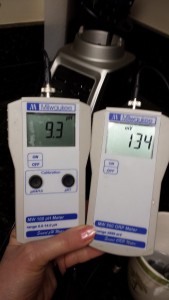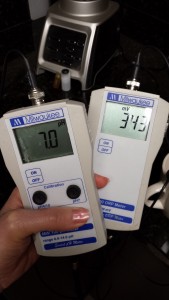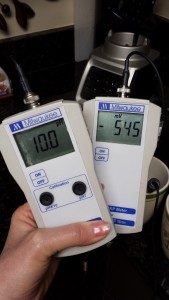 It is of course always preferable to drink freshly ionized water if you can.
I'm in Florida right now and am excited to test the Nexus Smart water ionizer and the new Alkaline Ionizer Purifier Energizer [a non-electric water ionizer]! I've been drinking ionized water from both of these water ionizers for a couple of weeks now, and it's been really great.Why Did I Install these Water Ionizer Devices in [...]
Electric vs Mineral-Based Water Ionizer SystemsThere are two types of systems which will ionize water. One is electric, a water ionizer machine, which involves electrolysis of water. The other filters and ionizes the water using minerals [mainly magnesium, tourmaline, zeolite, etc.] and usually some sort of magnets [usually magnetized ceramics] to lightly ionize. All portable water [...]
Cathleen Lograsso
Cathleen was a teacher/principal for 24 years and has been drinking ionized water for about 25 years. She created Alkaline Water Plus to educate people about the benefits of ionized water.
"The very best thing I have ever purchased is a WATER IONIZER!" Cathleen LoGrasso, Owner/CEO Alkaline Water Plus
Subscribe by Email
Get every post sent to your email address.
Featured Posts
Archives
Search
Search results are always reported with two tabs: "Products" first and "News & Information" second.Look for these tabs.