Blog
Posted by Alkaline Water Plus on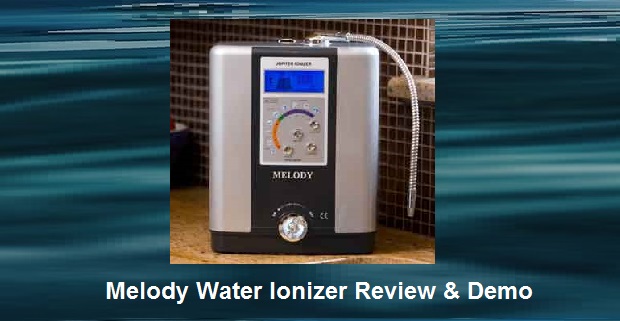 The Jupiter Melody water ionizer is one of my better water ionizers and some people even think it's the best. Why is is so great?
Jupiter Melody Water Ionizer Review
1) The Melody water ionizer is a workhorse. It's very sturdy and reliable.
2) The Jupiter Melody has an advanced, continuous-cleaning system which keeps the plates perfectly clean for the life of the water ionizer.
3) The Jupiter Melody gives great results of pH and ORP.
4) The Melody can be moved easily. It's compact size and sturdy construction makes it one of the least problematic water ionizers ever made.
5) The filtration is outstanding with the Jupiter water ionizers in general.
6) The Jupiter Melody water ionizer has a mineral port. This is great for hard water, because you can put a scale guard insert in there to help keep the water lines and spout free of scaling. It's also great for soft water, because you can then opt to put a calcium insert in there to boost ionization.
7) The filter-changing is a breeze with the Melody ionizer.
The Melody water ionizer is a well-made, mid-priced, water ionizer with 5 solid platinum coated titanium plates. It's best flow-rate for ionization from between 1.2 liters per minute and 1.8 liters per minute. This is slower than some water ionizers, but personally I like the slower flow-rate water ionizers, because when the water flows through the filter slower the toxins have a better chance of being removed.
Here is the Demo of the Melody Water Ionizer in Action
Performance-wise the Bawell Fountain is not particularly good. It is clearly working, because the pH rose, but the ORP-antioxidant-levels are poor. I tested this water ionizer for days and this is the best I could get from it. Bawell Fountain Water Ionizer PH ORP Level 1 9 -39 Level 2 9.2 -200 Level 3 9.5 -230 Level 4 10.3 -290 Acidic Water 3.2 Tap 8.8 Notes: It cleans itself by acid-wash every time you turn [...]
Water ionizer comparisons are all over the internet, but most are out-dated sites belonging to importers of one water ionizer or another.Our water ionizer comparisons are different! Why? First of all you have to look at the person doing the water ionizer comparisons.About Me: I used to be a teacher/principal when I got my first water ionizer [...]
One of the best water ionizers I've ever tested is the Vesta! I get excited when I see the great pH and ORP results that the Vesta GL water ionizer can easily and quickly deliver. Here's some recent testing I did. The favorite thing I love about the Vesta water ionizer is the fact that it will [...]
Thank you for visiting AlkalineWaterPlus during our Grand Opening! We have lots of awesome products, such as: electric water ionizers, water ionizer pitchers, water filters and accessories. We also have a gift for you - one of the best bottles for storing ionized water! In addition we are offering you a free 80-piece pH saliva/urine [...]
I spent a good deal of time testing and evaluating the Ayana Vitalizer water ionizer, also known as the Verunizer, a few weeks ago. I was hoping Ayan Water was good enough to justify me import them from Canada. I have to say I was disappointed with the performance of the Verunizer. The company advertises well, and [...]
I was quite unimpressed with my recent testing of Lifeionizer's most recent, popular, 2014, water ionizer. It has been many years since I've done business with the Lifeionizer company, and I hesitated to even test their water ionizer, because I think the company is so worthless. However I decided to do some testing of one [...]
Keep on the lookout. The market is flooded with fake water ionizer reviews. I am not saying to stay away from reading customer reviews…not at all. But, obviously you want to focus on reading real reviews and not hype and false information.Fake Water Ionizer ReviewsAlmost all of the existing "review" websites are pretending to be non-biased. [...]
I have only good things to say about the Nexus X-Blue water ionizer! I am very happy with it, but the most important thing is…My Customers Love the Nexus X-Blue! I even have repeat customers, coming to buy more Nexus ionizers for their family members and referring their friends! The Nexus X-Blue water ionizer doesn't have all of the [...]
Still Undecided about Which Water Ionizer to Buy? Here are some snip-its to help you understand both pros and cons of the most popular water ionizers on the market today, followed by mini-reviews of the 10 most popular water ionzers.Not all Water Ionizers are Created EqualWater ionizers are an investment. Back about 18 years ago I [...]
Cathleen Lograsso
Cathleen was a teacher/principal for 24 years and has been drinking ionized water for about 25 years. She created Alkaline Water Plus to educate people about the benefits of ionized water.
"The very best thing I have ever purchased is a WATER IONIZER!" Cathleen LoGrasso, Owner/CEO Alkaline Water Plus
Subscribe by Email
Get every post sent to your email address.
Featured Posts
Archives
Search
Search results are always reported with two tabs: "Products" first and "News & Information" second.Look for these tabs.