Posted by Alkaline Water Plus on 15th Feb 2019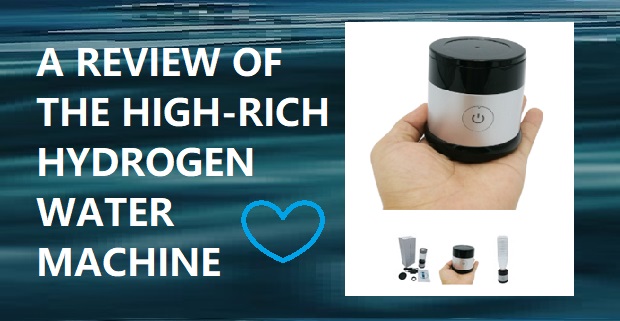 I am actually in love with this tiny little portable hydrogen machine! The High-Rich machine is so small I can take it anywhere. It will actually remove nitrogen and chlorine as it transforms the water into very strong, healthy, free-hydrogen rich water (also known by scientists as "molecular hydrogen". It does this in as little as 5 minutes (the longer cycle is 7 minutes). I use this little hydrogen machine every day. The water tastes great, and is physically refreshing in every way.
The tiny base of theHigh-Rich hydrogen machine can fit into the palm of your hand. It can be hooked up to the glass cup it comes with or any plastic water bottle you want to use. I suppose you could even use a 2-liter bottle, but in that case I think I would put it through two cycles to get the high levels of free-hydrogen in water that I'm used to.
The levels of free-hydrogen that the High-Rich machine produces are astounding. It gets about twice the hydrogen as one could expect from a $4000 water ionizer. [Note: Some water ionizers are able to produce more hydrogen than others. See my water ionizer comparisons page.] I regularly get 1 ppm of molecular hydrogen with the water I make with the High Rich hydrogen machine.
Don't use the High-Rich machine with high pH alkaline ionized water though. The high-alkalinity of ionized water can interfere with the long-term working condition of any hydrogen water machine, including the High-Rich. It will work fine with 9 pH water, or even 9.5, but higher than that can clog the hydrogen-producing mechanisms. On the product page I give you tips for clearing out clogs if this should happen to your high-rich machine
I like to drink ionized water and hydrogen rich water wherever I go, and don't like to be without it. I have taken the Hydrogen water machine with me traveling, and just using the water-fountain water (or water they give you on the plane) to make fantastic hydrogen-rich water which was very satisfying.
The main part of the High Rich machine (the part that produces free-hydrogen) is made in the US, by DuPont. The rest of the machine is made in China. I am very happy with the company and product quality. It comes with a 1-year warranty.