Posted by Alkaline Water Plus on 9th Mar 2013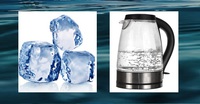 Can you boil ionized water? Many people have asked me if they will lose any of the health benefits of ionized water when they boil or freeze ionized water. This is a good question.
Will boiling alkaline water reduce the pH?
In the following video I show the results of boiling ionized water, from a Jupiter Athena water ionizer. The beginning tests showed that at Level 3 the Athena produced ionized water that was 10.7 pH and -700 ORP.
After boiling ionized water, the pH reduced to 8.5.
I'm surprised that this is all it went down. In past tests I've seen that boiling ionized water made it acidic. However I recall in past testing I allowed the water to boil longer. In this test I used a tea kettle and stopped the boiling as soon as it started whistling.
Adding ice cubes to the ionized water also reduced the pH.
The ionized water tested at 9.0 pH and -600 ORP after adding ice cubes.
Here's the video:
Conclusions:
The results of the tests, above, aren't bad. If you boil ionized water or ice it you'll get a reduced pH, but will still be drinking alkaline water. However, because it does reduce the pH pretty much to boil it, I suggest that you limit the boiling of ionized water. Also, don't boil it too long or double-boil it.