Athena H2 Water Ionizer
The Athena H2 water ionizer is one of the newest, state-of-the-art, best water ionizers.
By internal switching from AC to DC the H2 water ionizer is a powerhouse for the production of H2 antioxidants.
The Athena H2 ionizer is a very sturdy water ionizer
H2 water ionizers are so sturdy they are the only models I recommend for undersink installation.and they come with a lifetime warranty.
The Athena H2 also uses UltraWater filtration. There is no better filtration in the world than the UltraWater filters used in the AlkaViva Athena H2 water ionizer.
The Athena H2 the best water ionizer I have found in many water ionizer comparisons. The design of the AlkaViva Athena H2 Water Ionizer was specifically developed to achieve the highest levels of H2 Antioxidants (molecular hydrogen) and ORP per unit of pH of any other water ionizer. Read more about the benefits of H2 antioxidants.
Testing the AlkaViva Athena H2 Water Ionizer (1 min. video)
Distinctive Features of the AlkaViva Athena-H2 Water Ionizer
7 high grade, technologically advanced, pure platinum coated titanium plates! The seven, advanced, SmartDesign electrodes are solid plates, but very efficiently created to produce the best ORP per unit of pH of any water ionizer.
5 Alkaline Settings (not just 3 or 4)! All of the 5 alkaline settings produce ionized water which can be consumed! There are no chemicals used to make even the strongest levels of alkaline ionized water in the Athena H2 water ionizer. Note: Always start drinking on the lowest alkaline level and move up to a higher level if or when your body is ready.
Powerful Hydrogen Antioxidants Generator: The production of molecular hydrogen, or H2, requires advanced technology, which the H2 water ionizers have. The Athena H2 water ionizer uses advanced and patented Hydrogen Infusion Technology, which enables optimal levels of molecular hydrogen (H2 Antioxidants). The H2 water ionizers are the only water ionizers to use this technology. Hydrogen Infusion Technology specifically optimizes the infusion of Hydrogen antioxidants into the water and performance of the water ionizer. This technology is very new and unique to the H2 water ionizers. With the Athena H2 water ionizer you get the power of H2 antioxidants with every level of pH you select. Why are H2 antioxidants so important? The tiny size and solubility of H2 antioxidants makes them the only antioxidants capable of passing through cell membranes and the blood-brain barrier. Inside the cell, where free-radicals do the most damage, the power of molecular hydrogen becomes a literal life-saver.
Best negative ORP per unit of pH on all alkaline settings!
Continuous-Cleaning! Fully automatic continuous-cleaning means that your H2 water ionizer will maintain it's peak performance throughout the life of the water ionizer. Most water ionizers have automatic, but intermittent, cleaning. This could allow for some calcium build-up on the plates because it's intermittent and not continuous. Calcium on the plates makes them less able to ionize at their maximum. It is a scientific principle that platinum catalyzes [speeds up] electrolysis. But, to do that the platinum must be in direct contact with the water. So, even the thinnest film of calcium on the plates can inhibit that water ionizer's potential to ionize fully and efficiently. With the Athena H2 water ionizer the cleaning is automatic, in background, and continuous - 100% of the time. You never have to wait, and your H2 water ionizer always gives you the maximum amount of antioxidants in your water.
AutoAdjust for optimum pH levels. All H2 Series water ionizers have AutoAdjust, which allows the machine to adjust the power at optimum levels for your source water. Technical expertise is unnecessary with the auto-adjust feature. [Note: The auto-adjust feature can be manually over-ridden. Instructions for doing this are on pg. 13 of the owner's manual.]
High Quality, Patented, Ultra-Water Filtration. The Athena H2 Water Ionizer's filtration is going to give you pristine clean water!
Real-Time Flow Control: You can set and forget your power setttings and flow-control with the new Athena H2 water ionizer.
SMPS power supply is the most up-to-date, latest version
Ongoing self-diagnosis with a mini-computer on-board! The Micom [miniature computer] System controls every operation of the Jupiter Athena water ionizer to improve performance.
What is SmartDesign?
SmartDesign electrodes used in the Athena H2 are state of the art and super-efficient at all power-levels, even the lowest power-level. After extensive research, the engineers have found the higher the power density used in ionization, the less H2 stays in the water. To get the benefit of H2 it has to be dissolved in the water. In addition to better performance, running lower power puts less stress on the plates, which leads to increased durability over time. SmartDesign electrodes are the most advanced, solid plate design of all water ionizers. They are electro-plated and optimized specifically for efficiency and highest performance.
Advanced Protection Against Hard Water
Hard water can be very destructive of a water ionizer, and often your warranty isn't protected against it. But the Advanced design of the H2-Series water ionizers protects against hard water better than any other water ionizer. For hard water protection, the Athena H2 is in a class of its own.
Advanced UltraWater Filtration
UltraWater filtration is a big deal. No other filters can remove this much contamination. Even reverse osmosis and distillation misses some contaminants, like Fluoride, which have a low atomic weight. Whereas UltraWater filters have been tested and proven to remove up to 99.999% of contaminants, regardless of atomic weight. Patented dual filters consisting of 0.1 micron filters combine with space-fiber technology to efficiently filter almost any tap water. The filter life change indicator lets you know when it's time to replace your filters. You have the ability with two filters to really make sure your water is filtered properly. These advanced filters also have anti-scale filtration built in.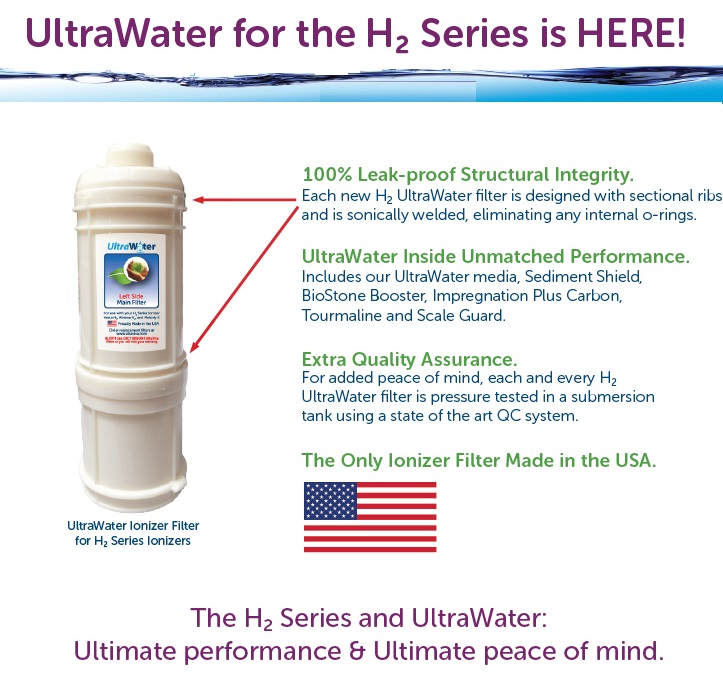 Customized Colors
Customers who want to customize the colors may do so. Simply email us (support@alkalinewaterplus.com) and we'll contact you with information about how to make your color selection.
The Manufacturing Quality of the AlkaViva Athena H2 Water Ionizer
Top Certifications and Outstanding Companies: There aren't better water ionizer companies than these. Their certifications are numerous, including ISO 9001 and 14001, UL standard for Low voltage electrical, NRTL, CE and KFDA.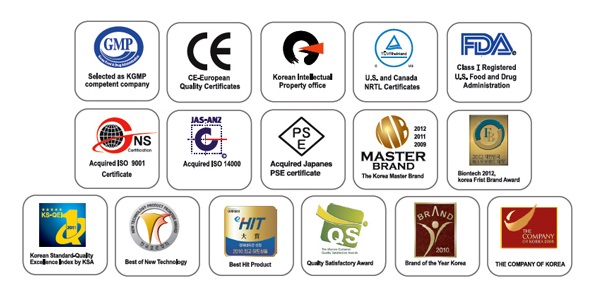 ALKAVIVA WATER IONIZER IMPORTANT NOTES
The parts inside the Athena H2 Water Ionizer are all of a very high quality, and are literally built to last a lifetime. The warranty offered by AlkaViva covers you for life, if your water ionizer ever has a spontaneous malfunction due to a defective part. Their repair depot is located in Reno, Nevada.
In order to assist you to qualify for their lifetime warranty, we at Alkaline Water Plus will register your water ionizer for you. We do this automatically as part of our customer service. Because the AlkaViva lifetime warranty defaults to 1-year if it's not registered within 30 days of purchase, it is a huge benefit that we offer you, to register your water ionizer for you, when you purchase your water ionizer through us. Just buy it and forget it...you're covered.
All AlkaViva water ionizers are tested before leaving the AlkaViva warehouse (without using the filters) for quality control purposes. There is usually a small amount of residual water, so plugs are placed on all water ionizer ports for shipping. Please follow these guidelines for removing the quick-connect plugs.
Note: All pH and ORP levels are approximate, depending on local water supply, because water ionizers don't always work the same in every location.
Comes With Installation Accessories including hosing, pH test kit, lever-style diverter for faucet connection and John Guest Tee for direct plumbing connection.
SPECIFICATIONS
Voltage:

120V [60Hz]

Power:

Newest, most advanced form of SMPS

Watts:

235

W

Works with up to 72 psi of water pressure.

Dimensions:

12.5" wide x 14.5" high x 5.5" deep

Weight:

13 lbs.

Suitable Tap Water Temperature:

40 - 86F

Protection Mechanisms:

2 temperature sensors built-in and fuse to protect machine from overloads.

Electrolysis Method:

Continuous and Automatic

Electrodes:

7 medical grade

Platinum coated Titanium plates using the patented SmartDesign technique

Flow-Rate:

1.5 liters/min. to 2.5 liters/min.

Settings:

Alkaline Water (5 Levels), Purified Water, Acidic Water (2 Levels)

Cleaning:

Automatic and Continuous

Cleaning

Filter Replacement:

2 Filters offering 13 stages of filtration

Filter Life:

1,000 gallons

Voice Recognition:

Yes (can be adjusted)

Display: LCD Touch Screen (Letters and Images)

ON/OFF Valve Method:

Real-time Flow Control Knob

Mineral Port: Yes, in each filter.
Athena H2 Water Ionizer Installation Video
Follow the link to watch a thorough demonstration of installing any of the H2 water ionizers.
H2 Water Ionizers are Strong on the Inside
With H2 water ionizers you don't have to worry about being told you can't install it under your sink if you ever want to. These are very strong water ionizers and can hold up to the internal pressure of undersink installation, or any other kind of pressurized installation, very well.
ALKAVIVA Athena H2 Water Ionizer Warranty
The parts within the Athena H2 water ionizer and all AlkaViva water ionizers are of fantastic quality. They should last a lifetime. It's very rare that any of our water ionizers would have a defective part. But for your protection, all AlkaViva water ionizers have limited lifetime-parts/labor warranties. The repair/servicing depot is located in Reno, Nevada. Here are some extra things we do for you regarding your warranty:
We will register your water ionizer for its AlkaViva Lifetime Parts & 5-Year Labor Warranty for you.
Also, for no extra charge to you, we will increase the "5-Years" of Labor to 10-years. Just say "upgrade warranty to 10-years labor" in the comment section of the order form.
Note: A water ionizer is a life-long investment in your health. As such, all of our water ionizers are covered with lifetime warranties. If you ever need a repair, you will need all of your original packing and plugs and other cautions for safe shipping. Visit our Safe Shipping & Receiving of a Water Ionizer page.
All Water-Ionizer Customers Please Read:
We have many pages in this website designed to help you make the right choices for your water ionizer and that includes proper filtration as well. If you have well-water, very hard water, very soft water, a whole-house water softener, or another specific water-source issue, please read the appropriate page(s) listed below for your convenience before you order. Or contact us for a free water quality consultation.
Packing Up the H2 Water Ionizer
Turn off the water source.
Open the flow knob (releases pressure on lines).
Blow through spout to force water out of machine.
Remove spout and hoses; let dry.
Put plugs in/on the open ports (from the spout and two hoses) and secure the electric cord with a twist-tie.
Make sure machine is dry before covering it with the large plastic bag that came with it.
Turn the machine on its side and place it into the side foam piece. Make sure it fits right. There is only one correct way.
Put the other side piece on. There's a slot for the spout to fit nicely.
Slide machine into product box.
Turn box upright.
Put hoses and other pieces into a separate plastic bag and insert them into the box.
Close up the box.
If you're going to ship the box, make sure to pack it securely and snugly into another, bigger, sturdy shipping box.