AlkaViva Vesta H2 Water Ionizer
The Vesta H2 water ionizer is the most effective and best water ionizer for the counter-top. It's Hydrogen Infusion Technology is one of the many upgrades from the Jupiter Vesta GL water ionizer.
It produces ionized water with the maximum amount of H2 (hydrogen antioxidants, or molecular hydrogen). the H2 water ionizers are the most functional water ionizers there are.
The AlkaViva Vesta H2 Water Ionizer is The Definition of State-of-the-Art!
AlkaViva H2 water ionizers convert AC power to DC. This excites the water into its powerhouse production of molecular hydrogen (H2). The Vesta H2 water ionizer's 9 plates give maximum performance too.
All H2 water ionizers come with UltraWater filtration, guaranteeing best quality of filtration for any water filter in the world.
The Vesta H2 water ionizer is a strong and well-built machine. It will never leak, is easy to use; and has a lifetime warranty. The AlkaViva Vesta will provide you with years of amazing performance.
The Alkaviva Vesta H2 water ionizer also uses an industry-first advanced self-diagnostic MICOM (mini-computer) circuitry system
Advanced SMPS Technology
The Vesta H2 water ionizer uses the most-advanced SMPS (Switch Mode Power Supply). Other types of SMPS, used in competitors' brands of water ionizers cannot automatically adjust the power to match water conditions.
The advanced SMPS used in the Vesta H2 water ionizer is Auto-Adjust. Auto-Adjust gives efficient ionization. It also saves power by making the most of the power used. Plus, it makes for great hydrogen performance.
Advanced Plate-Cleaning Technology
All water ionizers have cleaning systems which are crucial to performance and durability, but H2 water ionizers have the absolute best.
With Smart-Switch the electrodes switch on and off so quickly and pulse differing widths. This feature keeps calcium and other minerals from attaching to the electrodes.
Other less sophisticated ionizer brands don't clean as well, plus cause you to wait every so often for your alkaline water.
The AutoClean is more advanced plate-cleaning. And, you never have to wait while your water ionizer cleans the plates. It all happens in the background.
Advanced UltraWater Filtration
UltraWater Filtration are the best filters at any price. Patented dual filters consisting of 0.1 micron filters combine with space-fiber technology to give the best filter performance.
The filter life change indicator lets you know when it's time to replace your filters. These filters do really filter the water properly. The AlkaViva H2 filters also have anti-scale filter ports built in if you need them.
Advanced Self-Diagnostics
MICOM circuitry system is a self-diagnostic computer technology. MICOM protects your investment.
Many kinds of sensors in the MICOM system run the machine as well as protect it. Your water ionizer has lots of protection from hot water, electric surges or other dangers.
Advanced Electrode Technology
9-Ultra Efficient Electrodes Made of the highest grade Titanium / Platinum for durability and efficient ionization.
Advanced Protection Against Hard Water
Hard water can be very destructive of a water ionizer, and often your warranty doesn't cover it. H2-Series water ionizers protect against hard water better than other water ionizers. For hard water protection, the Vesta H2 is in a class of its own.
Sleek Design
Modern, Sleek Design Small footprint and elegant black and stainless-look design complement any modern kitchen décor. Experience the elegance and efficiency of this ionizer in your kitchen!
Customized Colors
Customers who want to customize the colors may do so. Simply email us (support@alkalinewaterplus.com) and we'll contact you with information about how to make your color selection.
ALKAVIVA Vesta H2 WATER IONIZER IMPORTANT NOTES
Parts within AlkaViva water ionizers use advanced technology.
H2 water ionizer performance remains consistent and doesn't drop off over time.
It's very rare that any of our H2 water ionizers would have a defective part. But for your protection, all AlkaViva water ionizers have limited lifetime-parts/labor warranties.
The Vesta H2 comes with the accessories needed to install it.
There is a "special diverter" you can buy for the newer faucets that pull out.
Another option is to install the AlkaViva Vesta under your sink with this special faucet and kit.
The plastics used in our water ionizers are NSF certified to be BPA free, PE free, ABS free and food grade.
The H2 water ionizer repair depot is in Reno, Nevada.
With all water ionizers, there is usually a small amount of residual water, left over from quality-check-testing. Save the plugs from every port in case you ever have to ship your Vesta water ionizer.
If you prefer to pay with a payplan, click here: Vesta H2 Water Ionizer Payplan
Excellent Vesta Water Ionizer Reviews!
See the reviews' tab to read how much customers love the Vesta Water Ionizer!
We are confident you will enjoy many years of great tasting and healthy water from your Vesta water ionizer.
AlkaViva Vesta H2 Water Ionizer Warranty
We will register your water ionizer for its AlkaViva Lifetime Parts & 5-Year Labor Warranty for you.
Also, for no extra charge to you, we will increase the "5-Years" of Labor to 10-years. Just say "upgrade warranty to 10-years labor" in the comment section of the order form.
Accessories have 90-day warranties.
Vesta H2 Water Ionizer Installation Video
Follow the links to watch various demonstrations of the H2 water ionizers.
Programming the H2 Water Ionizers
H2 water ionizers (including the Melody II) work perfectly with most average water. For those who want to, though, these water ionizers are programmable. Here are the directions.

UltraWater Filtration Invormation
Lab Results for UltraWater filter.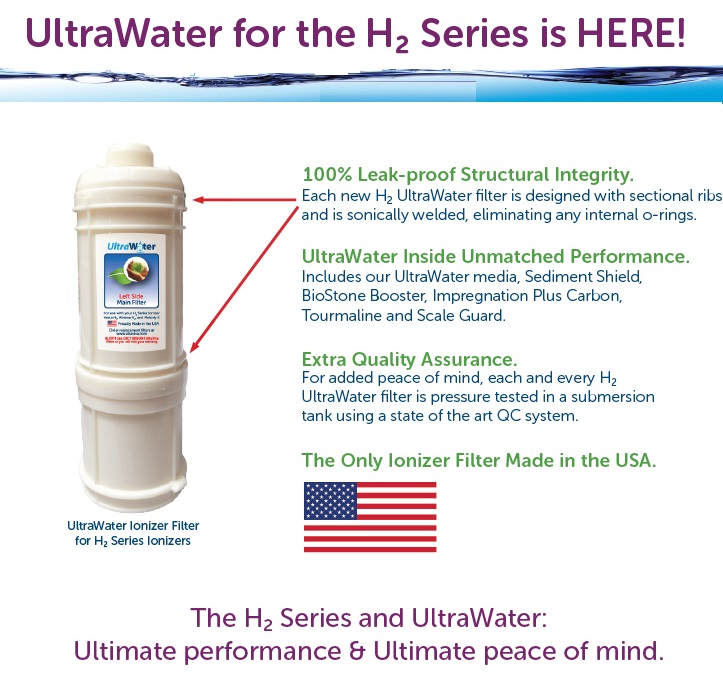 Read more information about UltraWater filters.
H2 Water Ionizers are Strong on the Inside
H2 water ionizers hold up to the the strongest internal pressure. This is why under-sink installation, or any other kind of pressurized installation, works very well with them. Works with up to 72 psi of water pressure.
SPECIFICATIONS
Voltage: 120V [60Hz]
Power: Newest, most advanced form of SMPS
Watts: 235W
Works with up to 72 psi of water pressure.
Dimensions: 12.5" wide x 14.5" high x 5.5" deep
Weight: 13 lbs.
Suitable Tap Water Temperature: 40 - 86F
Protection Mechanisms: 2 temperature sensors built-in and fuse to protect machine from overloads.
Electrolysis Method: Continuous and Automatic
Electrodes: 9 medical grade Platinum coated Titanium plates using the patented SmartDesign technique
Flow-Rate: 1.5 liters/min. to 2.5 liters/min.
Settings: Alkaline Water (5 Levels), Purified Water, Acidic Water (2 Levels)
Cleaning: Automatic and Continuous Cleaning
Filter Replacement: 2 Filters offering 13 stages of filtration
Filter Life: 1,000 gallons
Voice Recognition: Yes (can be adjusted)
Display: LCD Touch Screen (Letters and Images)
ON/OFF Valve Method: Real-time Flow Control Knob
Mineral Port: in each filter.
All Water-Ionizer Customers Please Read:
For special water-source issues, please read the appropriate page(s) listed below.
Or, contact us for a free water quality consultation.
Packing Up the H2 Water Ionizer
Turn off the water source.
Open the flow knob (releases pressure on lines).
Blow through spout to force water out of machine.
Remove spout and hoses; let dry.
Put plugs in/on the open ports (from the spout and two hoses).
Secure the electric cord with a twist-tie.
Make sure machine is dry before covering it with the large plastic bag that came with it.
Turn the machine on its side and place it into the side foam piece. Make sure it fits right. There is only one correct way.
Put the other side piece on. There's a slot for the spout to fit nicely.
Slide machine into product box.
Turn box upright.
Put hoses and other pieces into a separate plastic bag and insert them into the box.
Close up the box.
For shipping, make sure to pack it securely and snugly into another, bigger, sturdy shipping box.