Strength & Reliability of the Delphi H2 Water Ionizer
The AlkaViva DELPHI H2 Under Sink Water Ionizer is the only under sink water ionizer I ever recommend. It will never leak. No other under-sink water ionizer is strong enough or worry-free enough to make this statement.
The Delphi H2 is the most reliable water ionizer I have ever seen.
The Delphi H2 is the definition of a "state-of-the-art" water ionizer! With the most advanced features and technology. It will provide you with years of the highest-quality performance. Don't settle for second best when it comes to an under-sink water ionizer.
The AlkaViva Delphi H2 is The Definition of a State-of-the-Art Water Ionizer
After a number of years in the making, the Delphi H2 is really the absolute best under-sink water ionizer available.
The AlkaViva Delphi H2 water ionizer has has been designed with phenomenal "Hydrogen Infusion Technology" to give you the most available molecular hydrogen of any under-sink water ionizer.
Get the highest quality of water ionizer construction, filtration and performance. The H2 water ionizer is the best and will continue to be the best, with very little maintenance, well into the future.
The Water Cell Will Never Leak
The Delphi H2 Water Ionizer is strong. The water cell was built to withstand far more pressure than any other water ionizer and therefore never leak. Because of this the Delphi is the only under-sink water ionizer I recommend.
When you install a water ionizer under the sink, you need to know it won't develop a leak over time. Because under-sink water ionizers are out of sight and operate up against gravity with high and constant pressure, they need to have the strongest resistance to leaks. I don't recommend any other under-sink water ionizer than the Delphi H2.
9 of the Highest Quality Plates
The Delphi H2 has 9 of the highest-efficiency solid platinum titanium electrodes on the planet. These efficient, super-high-performing, plates will deliver more antioxidant power than any other under-sink water ionizer.
You can trust that the Delphi H2 will continue to perform outstandingly-well, giving high levels of antioxidants, and with very little maintenance, for the life of the water ionizer.
AutoClean™ - Advanced Plate-Cleaning Technology (Advanced Continuous-Cleaning)
All water ionizers have cleaning systems which are crucial to performance and durability, but all cleaning systems are not created equal. The Delphi H2 uses AutoClean™, an advanced form of continuous-cleaning. Without continuous-cleaning calcium and other minerals attach themselves to the electrodes. But, with AutoClean, the electrodes switch on and off so quickly and pulse differing widths, so minerals don't have the time or stability to form a bond with the surface of the electrode. Other less sophisticated water ionizer brands cause you to periodically wait for your alkaline water. The AutoClean reversal mechanism operates in the background of the Delphi H2, always cleaning and never interrupting the flow of alkaline drinking water. You never have to wait or worry.
One of the most important features that separates out BEST water ionizers from all the rest is their method of cleaning the electrodes. With continuous-cleaning you can be secure in knowing your water ionizer will stay capable of like-new performance years and even decades into the future. Even the slightest film of calcium on the electrode plates can reduce a water ionizer's capability of getting great ORP and H2-levels, so continuous-cleaning (never letting calcium stick to the plates) is a big deal.
Hydrogen Infusion Technology
The fact that the Delphi H2 water ionizer has Hydrogen Infusion Technology means it will give you the most available molecular hydrogen of any other under-sink water ionizer.
AutoAdjust
The Delphi H2 water ionizer has AutoAdjust™, which automatically adjusts the ionizing power to give you the best ionization always. When you install a water ionizer under the sink, you really need the best in strength and performance.
Industry's best technology is used in the Delphi H2 Water Ionizer
AutoClean (continuous-cleaning of the electrodes) with advanced cleaning capability
AutoAdjust™ optimizer automatically adjusts the ionizing power giving the best performance and ionization for your particular water source.
Smart Switch™ next generation SMPS power supply provides the most stable and efficient power platform.
9 high-efficiency solid platinum titanium electrodes deliver more antioxidant power than any other water ionizer.
Hydrogen Infusion Technology
Advanced self-diagnostic MICOM (mini-computer) circuitry system
UltraWater Filtration
Lifetime Warranty
Smart Switch: Advanced SMPS Technology
The Delphi H2 water ionizer uses the most-advanced Switch Mode Power Supply technology in order to operate it's unique AutoAdjust™ feature. Current generations of SMPS offered by other ionizer companies cannot automatically adjust voltage on demand to match varying water conditions. The advanced SMPS used in the Delphi H2 is able to do that. SMPS is known as a power-saving option as it only uses the amount of power necessary.
Advanced Self-Diagnostic
MICOM circuitry system allows for the advanced technology to function and protects your investment. Smart Sensors signal excessive temperatures either from power surge or water temperatures and shut your ionizer down to protect it.
Advanced Electrode Technology
9-Ultra Efficient Electrodes Made of the highest grade Titanium / Platinum for durability and efficient ionization.
Advanced Protection Against Hard Water
Hard water can be very destructive of a water ionizer, and often your warranty isn't protected against it. But the Advanced design of the H2-Series water ionizers protects against hard water better than any other water ionizer. For hard water protection, the Delphi H2 is in a class of its own.
Delphi H2 Sleek Design & Faucet Features
The Delphi H2 faucet is fully functional and beautiful.
The Delphi H2 faucet has a modern, mirror-faced, sleek design and uses a small footprint elegant faucet to complement any modern kitchen décor. Experience the elegance and efficiency this ionizer!
Custom Colors
If you would like a different color for your faucet, than the ones pictured above, please contact us: support@alkalinewaterplus.com, or put your request in the comment box of your order. Delivery of a custom color order may take a little longer, i.e., a week or two. It depends on available stocks.
Advanced UltraWater Filtration
All H2 Water Ionizers use the absolute best filtration.
Patented dual filters consisting of 0.1 micron filters combine with space-fiber technology to efficiently filter almost any tap water. The filter life change indicator lets you know when it's time to replace your filters. You have the ability with two filters to really make sure your water is filtered properly. These advanced filters also have anti-scale filtration built in.
UltraWater filtration is another of the outstanding features of the Delphi H2 under-sink water ionizer. You can get no better filtration for your water than UltraWater filtration - anywhere or at any price!
UltraWater filtration ensures you peace of mind, knowing your water is not only alkaline and ionized, but cleaned better than any other filtration system.
Detailed View of UltraWater Filtration
We have never seen anything even close to the filtration capabilities of UltraWater Filters. You can rest assured you have the very best water filters with the Delphi H2 water ionizer.
Lab Results for UltraWater filter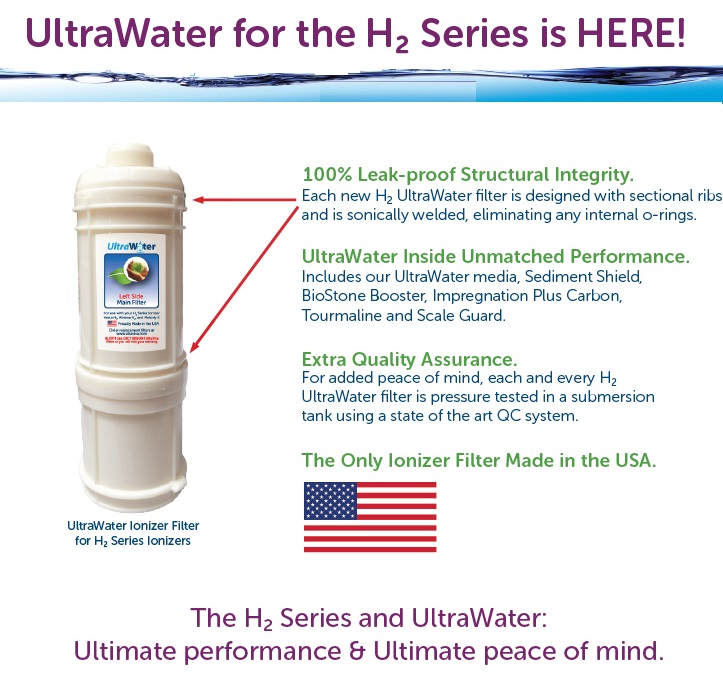 Read more information about UltraWater filters.
Note: A water ionizer is a life-long investment in your health. As such, all of our water ionizers are covered with lifetime warranties. If you ever need a repair, you will need all of your original packing and plugs and other cautions for safe shipping. Visit our Safe Shipping & Receiving of a Water Ionizer page.
We are confident you will enjoy many years of great tasting and healthy water from your Delphi water ionizer.
ALKAVIVA DELPHI H2 WATER IONIZER WARRANTY
The parts within the Delphi H2 water ionizer and all AlkaViva water ionizers are of fantastic quality. They should last a lifetime. It's very rare that any of our water ionizers would have a defective part. But for your protection, all AlkaViva water ionizers have limited lifetime-parts/labor warranties. The repair/servicing depot is located in Reno, Nevada. Here are some extra things we do for you regarding your warranty:
We will register your water ionizer for its AlkaViva Lifetime Parts & 5-Year Labor Warranty for you.
Also, for no extra charge to you, we will increase the "5-Years" of Labor to 10-years. Just say "upgrade warranty to 10-years labor" in the comment section of the order form.
SPECIFICATIONS
Voltage:

120V [60Hz]

Power:

Newest, most advanced form of SMPS

Watts:

235

W

Works with up to 72 psi of water pressure.

Dimensions:

12.5" wide x 14.5" high x 5.5" deep

Weight:

13 lbs.

Suitable Tap Water Temperature:

40 - 86F

Protection Mechanisms:

2 temperature sensors built-in and fuse to protect machine from overloads.

Electrolysis Method:

Continuous and Automatic

Electrodes:

9 medical grade

Platinum coated Titanium plates using the patented SmartDesign technique

Flow-Rate:

1.5 liters/min. to 2.5 liters/min.

Settings:

Alkaline Water (5 Levels), Purified Water, Acidic Water (2 Levels)

Cleaning:

Automatic and Continuous

Cleaning

Filter Replacement:

2 Filters offering 13 stages of filtration

Filter Life:

1,000 gallons

Voice Recognition:

Yes (can be adjusted)

Display:

LCD Touch Screen (Letters and Images)

ON/OFF Valve Method:

Real-time Flow Control Knob

Mineral Port:

Yes, in each filter.
IMPORTANT NOTES
Excellent Delphi Water Ionizer Accessories!
The Delphi H2 comes with the following accessories, which have 90-day warranties: diverter, user manual, flexible hose [spout], screw anchors, hose clamp, collet tool, tubing, grey hose, reagent drops, fuse.
The plastics used in our water ionizers are NSF certified to be BPA free, PE free, ABS free and food grade.
Manual & Instructions
Dimensions
Faucet Dimensions: 9 3/8" tall, Long spout 5.5", Short Spout 4.5"
Base Dimensions: 12.5" wide x 14.5" high x 5.5" deep
Note: A hole of approximately 35 mm is needed for installation of the faucet at the sink. The rest of the water ionizer installs below the sink. A GFI rated electric outlet needs to be available under the sink for the ionizer to plug into.
All Water-Ionizer Customers Please Read:
We have many pages in this website designed to help you make the right choices for your water ionizer and that includes proper filtration as well. If you have well-water, very hard water, very soft water, a whole-house water softener, or another specific water-source issue, please read the appropriate page(s) listed below for your convenience before you order. Or contact us for a free water quality consultation.
Packing Up the H2 Water Ionizer (BASE)
Turn off the water source.
Open the flow knob (releases pressure on lines).
Blow through spout to force water out of machine.
Remove spout and hoses; let dry.
Put plugs in/on the open ports (from the spout and two hoses) and secure the electric cord with a twist-tie.
Make sure machine is dry before covering it with the large plastic bag that came with it.
Turn the machine on its side and place it into the side foam piece. Make sure it fits right. There is only one correct way.
Put the other side piece on. There's a slot for the spout to fit nicely.
Slide machine into product box.
Turn box upright.
Put hoses and other pieces into a separate plastic bag and insert them into the box.
Close up the box.
If you're going to ship the box, make sure to pack the product box securely and snugly into another, bigger, sturdy shipping box.