Posted by Alkaline Water Plus on 15th Oct 2023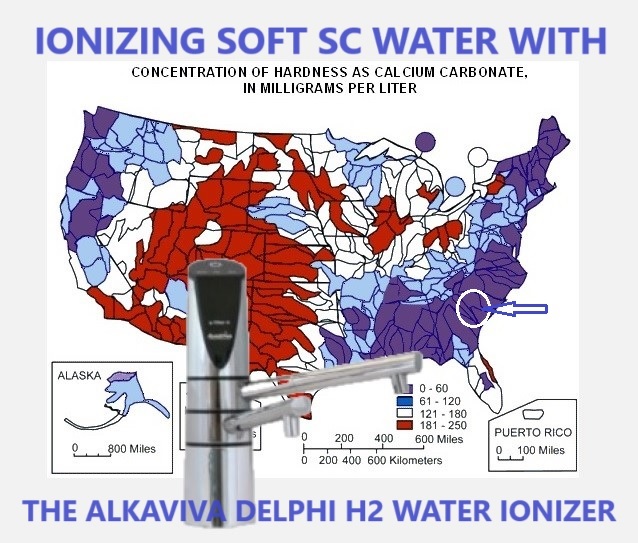 Soft water typically doesn't ionize well. I've had a lot of experience with this over the years. The solution was always to add a remineralizer to the line to give the water enough hardness to ionize well.
My son recently moved to South Carolina, which has soft water (a water hardness of 50 ppm). So, I anticipated having to add the remineralizer.
I was pleasantly surprised to see that his Delphi H2 water ionizer was able to ionize just fine without it.
Here is a video of me doing a full analysis of how well the Delphi H2 ionizes soft water.
PH Test Results
Here are the results poured at a flow rate of about 1.7 liters/min.
Tap Water: 7 pH and hardness = 50 ppm.
Level 1: Drinking Water = 7 pH and Acidic Water for Plants & Skin = 5 pH.
Level 2: Drinking Water = 8 pH and Acidic Water = 4 pH.
Level 3: Drinking Water = 8 pH and Acidic Water = 4 pH.
Level 4: Drinking Water = 8.5 pH and Acidic Water = 3.8 pH.
Level 5: Drinking Water = 9 pH and Acidic Water = 3.8 pH.
These results aren't typical of the AlkaViva Delphi H2 water ionizer, but they're still good. With more minerals one could get a wider range of pH. However, the ORP was so excellent, I advised my son to keep it the way it was (without remineralizer).
ORP Test Results
The ORP (oxidation reduction potential) is an important feature. All water ionizers reduce the oxidation potential of the drinking water. This is important, because our bodies need ways to neutralize oxidation (free radical damage).
Tap water typically has a positive ORP of about +300 or so. So, even an ORP that is a little negative in Level 1 is a good ORP for drinking water.
Here are the ORP Results:
Level 1: -6 ORP
Level 2: -90 ORP
Level 3: -355 ORP
Level 4: -707 ORP
Level 5: -750 ORP
These fantastic ORP results give me a great peace of mind and one of many reasons I recommend the Delphi H2. It is the only under sink water ionizer I recommend. So read the page about it for all kinds of other information about the AlkaViva Delphi H2 Water Ionizer.