Upgrade your old water ionizer to a Delphi H2 Water Ionizer and 1) save 25% off your price, and 2) Double your "labor" warranty (to 10 years)!
The DELPHI H2 WATER IONIZER is a well-designed undersink water ionizer, enhanced with AutoAdjust™, which automatically adjusts the ionizing power, giving the best performance and ionization for your particular water source. When you install a water ionizer under the sink, you really need the best in strength, performance and reliability. The Delphi H2 Undersink water ionizer has 9 solid, high-efficiency, super high performing, platinum-titanium electrodes which deliver more antioxidant power than any other water ionizer. I don't recommend any other undersink water ionizer than the Delphi H2.
The fact that the Delphi H2 water ionizer has Hydrogen Infusion Technology means it will give you the most available molecular hydrogen of any other undersink water ionizer. After a number of years in the making, the Delphi H2 is really the premium undersink water ionizer available.
All of the H2 water ionizers are designed to be absolutely the most functional water ionizers. Through a proprietary method of converting AC power to DC the machine becomes a powerhouse for production of H2-antioxidants. The AlkaViva Delphi H2 water ionizer has has been designed with phenominal "Hydrogen Infusion Technology" to give you the most available molecular hydrogen of any undersink water ionizer.
Don't settle for second best when it comes to an undersink water ionizer. It's very important to know you have the highest quality of water ionizer construction. You will (I'm sure) want to put a lot of trust that this machine will hold up well under pressure and last a very long time, with very little maintenance.
The AlkaViva Delphi H2 is The Definition of a State-of-the-Art Water Ionizer!
With the most advanced features and technology, such as the AutoAdjust Optimizer and SmartSwitch, the Delphi H2 water ionizer will provide you with years of the highest quality performance. The Delphi H2 water ionizer is an upgrade of the Ultra Delphi water ionizer.
Industry's best technology is used in the Delphi H2 Water Ionizer!AutoClean continuous cleaning technology
AutoClean (continuous-cleaning of the electrodes) with advanced cleaning capability
AutoAdjust™ optimizer automatically adjusts the ionizing power giving the best performance and ionization for your particular water source.
Smart Switch™ next generation SMPS power supply provides the most stable and efficient power platform.
9 high-efficiency solid platinum titanium electrodes deliver more antioxidant power than any other water ionizer.
Hydrogen Infusion Technology
Advanced self-diagnostic MICOM (mini-computer) circuitry system
UltraWater Filtration
Lifetime Warranty
Smart Switch: Advanced SMPS Technology
The Delphi H2 water ionizer uses the most-advanced Switch Mode Power Supply technology in order to operate it's unique AutoAdjust™ feature. Current generations of SMPS offered by other ionizer companies cannot automatically adjust voltage on demand to match varying water conditions. The advanced SMPS used in the Delphi H2 is able to do that. SMPS is known as a power-saving option as it only uses the amount of power necessary.
Advanced Plate-Cleaning Technology
All water onizers have cleaning systems which are crucial to performance and durability, but all cleaning systems are not created equal. One more important advantage of AutoAdjust™, is that calcium and other minerals cannot attach themselves to the electrodes. With the electrodes switching on and off so quickly and pulsing differing widths, minerals don't have the time or stability to form a bond with the surface of the electrode. Other less sophisticated water ionizer brands cause you to periodically wait for your alkaline water. The AutoClean reversal mechanism operates in the background of the Delphi H2, always cleaning and never interrupting the flow of alkaline drinking water. You never have to wait or worry.
Advanced UltraWater Filtration
Patented dual filters consisting of 0.1 micron filters combine with space-fiber technology to efficiently filter almost any tap water. The filter life change indicator lets you know when it's time to replace your filters. You have the ability with two filters to really make sure your water is filtered properly. These advanced filters also have anti-scale filtration built in.
Advanced self-diagnostic
MICOM circuitry system allows for the advanced technology to function and protects your investment. Smart Sensors signal excessive temperatures either from power surge or water temperatures and shut your ionizer down to protect it.
Advanced Electrode Technology
9-Ultra Efficient Electrodes Made of the highest grade Titanium / Platinum for durability and efficient ionization.
Sleek Design
Modern, Sleek Design Small footprint and elegant black and stainless-look design complement any modern kitchen decor. Experience the elegance and efficiency this ionizer!
Other Features of the Delphi H2 Water Ionizer:
UltraWater filtration ensures you peace of mind, knowing your water is not only alkaline and ionized, but cleaned.
Sleek mirror-faced, elegant design
ALKAVIVA DELPHI H2 WATER IONIZER IMPORTANT NOTES
The parts within the Delphi H2 water ionizer and all AlkaViva water ionizers are of fantastic quality. They should last a lifetime. It's very rare that any of our water ionizers would have a defective part. But for your protection, all AlkaViva water ionizers have limited lifetime-parts/labor warranties. The repair/servicing depot is located in Reno, Nevada.
We will register your water ionizer for its AlkaViva Lifetime Parts & 5-Year Labor Warranty for you.
With all water ionizers, there is usually a small amount of residual water, left over from quality-check-testing, so plugs are placed on all water ionizer ports. Please follow these guidelines for removing the quick-connect plugs. Also, save these plugs in case you ever have to ship your Delphi water ionizer.
If you prefer to pay with a payplan, click here: Delphi H2 Water Ionizer Payplan
Excellent Delphi Water Ionizer Accessories!
The Delphi H2 comes with the following accessories, which have 90-day warranties: diverter, user manual, flexible hose [spout], screw anchors, hose clamp, collett tool, tubing, grey hose, reagent drops, fuse.
The plastics used in our water ionizers are NSF certified to be BPA free, PE free, ABS free and food grade.
We are confident you will enjoy many years of great tasting and healthy water from your Delphi water ionizer.
Warranty
Lifetime parts & 5-year labor. See warranty details.
Note: All pH and ORP levels are approximate, depending on local water supply, because water ionizers don't always work the same in every location.
Best Filtration: The Delphi H2 Water Ionizer Comes With UltraWater Filtration!
We have never seen anything even close to the filtration capabilities of UltraWater Filters. You can rest assured you have the very best water filters with the Delphi H2 water ionizer.
Lab Results for UltraWater filter.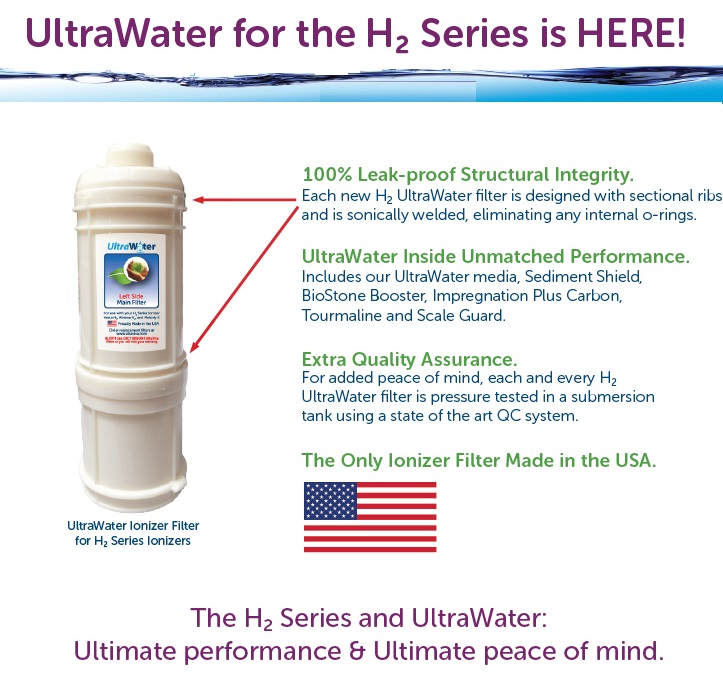 Read more information about UltraWater filters.