Blog
Posted by Alkaline Water Plus on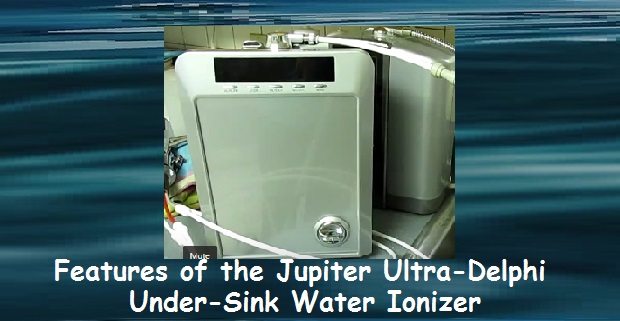 I have been spending some time with the Jupiter Delphi water ionizer this week and doing several tests and demos. Because I'm so impressed with the features of the Jupiter Ultra-Delphi water ionizer I decided to do a blog-post about them.
Advancements in the Installation & Design of the Jupiter Delphi
The first thing that struck me as different in the Jupiter Ultra-Delphi [versus the earlier Jupiter Delphi model] is that there are two extra hoses (red & grey) going into the faucet. This is not a trivial change, but is a great advancement in the overall design of this under-sink water ionizer model.
The red line is where the water (connected to either the plumbing or filtration system) goes first. The incoming water doesn't go directly into the water ionizer, but instead goes up into the faucet. It then turns and exits the faucet, downward, through the grey hose and goes into the Ultra-Delphi water ionizer. What this does is creates a siphoning effect for the water supply. This siphoning of the incoming water allows for a more consistent supply of incoming water, with greater water-pressure. This extra boost to the water pressure is very helpful to the performance and life of the water ionizer. Here's a video showing this and other features of the Jupiter-Delphi.
The On-Off Flow-Control Knob is Another Advanced Feature of the Ultra-Delphi
In the video I demonstrate the advanced way the Ultra-Delphi turns on and off, using the flow-control knob on the side of the faucet. When you turn the water-flow on, the water ionizer automatically turns on and produces ionized water instantly. Note: It also remembers the last setting you had it on. If you always use the same setting, there is no need to push any button on the faucet (just turn on the water-flow). Many under-sink water ionizers have an on-off button instead. The new flow-control on-off design is an advancement because: the water will never burst out of the spout; it reduces the risk of any malfunction in the ability to turn on or off the water ionizer; it reduces your use of buttons altogether; it makes getting ionized water so quick and easy that any child can do it; and you can adjust the flow-rate at any time to your preferences. I really like the ability to easily adjust the flow-rate, because for me the slower flow-rate through the filters gives me better filtration. I like that. But my husband likes the faster flow-rate. With the flow-control knob we can both get what we want.
Other Advanced Features of the Jupiter Ultra-Delphi Water Ionizer
The Ultra-Delphi has the same water-cell and most other features as the Jupiter Athena Water Ionizer. It has the most advanced plate-cleaning and filtration features possible in any water ionizer.
Another great feature of the Jupiter Ultra-Delphi is the ability to convert into a counter-top water ionizer. Just by un-clicking two water-lines and unplugging it from under the sink, you can bring it with you on vacations and such. Note: There is a little "Mode" button on the far right that has to be pushed to toggle back and forth from counter-top to under-sink controls.
Read more about the Jupiter Ultra-Delphi water ionizer.
No matter what kind of water ionizer or water filter system you have or are planning to buy you might find you benefit from reading [and watching demos] about alternate ways to install the system. Even if you already own a water ionizer and it's nicely, already hooked to your sink faucet, you may eventually want to [...]
If you have a water filter which uses filter housings, or are considering buying a water filtration system, then this post is something you should take a look at. I am a big advocate of filtering water, and so want to spend some time here teaching you about filter housings. With the right tools and [...]
I'm in Florida right now and am excited to test the Nexus Smart water ionizer and the new Alkaline Ionizer Purifier Energizer [a non-electric water ionizer]! I've been drinking ionized water from both of these water ionizers for a couple of weeks now, and it's been really great.Why Did I Install these Water Ionizer Devices in [...]
I'd like to take a few minutes to go over how easy the Nexus Undersink Water Ionizer is to install and demonstrate how awesomely it ionizes at the same time.Just Look at How Easy the Nexus Undersink Water Ionizer Installation Is! If you plan to install the Nexus Undersink Water Ionizer you should definitely watch this video. It [...]
Quick Connect fittings, otherwise known as John Guest fittings or quick-connects, can be frustrating for people who have never used them before. They're easy to use, but also easy to break if you don't know what you're doing. Please take a minute to watch this very short demo of how to remove a quick connect [...]
First of all, if you have acidic tap-water there is a reason for you to be concerned. Acidic water, traveling through pipes, can corrode, or leach minerals from them, and your incoming tap-water is likely to have some copper, lead, or other heavy-metals in it because of this.In New England, the water is known to [...]
Cathleen Lograsso
Cathleen was a teacher/principal for 24 years and has been drinking ionized water for about 25 years. She created Alkaline Water Plus to educate people about the benefits of ionized water.
"The very best thing I have ever purchased is a WATER IONIZER!" Cathleen LoGrasso, Owner/CEO Alkaline Water Plus
Subscribe by Email
Get every post sent to your email address.
Featured Posts
Archives
Search
Search results are always reported with two tabs: "Products" first and "News & Information" second.Look for these tabs.