Posted by Alkaline Water Plus on 5th May 2022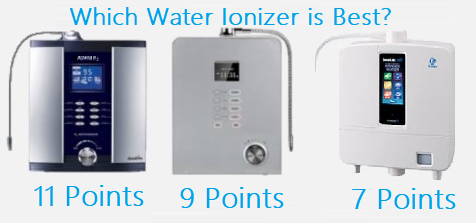 Comparing The Enagic K8, Smart 9P and H2 Water Ionizers
The Enagic K8, Smart 9P and H2 Water Ionizers are all effective, high-quality water ionizers, but which is best and why?
Under each of the three water ionizers, I have bulleted the most commonly sought-after qualities (of water ionizers) and assigned points in order to somehow objectively compare these three great water ionizers. Feel free to change the point system to suit yourself, so this comparison can be meaningful to your needs and wants for a water ionizer.
As it is, the Athena H2 wins, with 11 points; the Smart 9P comes in second, with 9 points, and the Enagic K8 is third, with 7 points.
Athena H2
The Athena H2 water ionizer features the following:
It gets a range of ORP (oxidation reduction potential) to over -800 [1 point]
It produces over 1.6 ppm of molecular hydrogen, which is as high as one can get at my (St. Louis) atmospheric pressure. [1 point]
The filters remove heavy metals and chemicals, but leaves the good minerals in. With dual filtration, the H2 water ionizer's UltraWater filters also remove pharmaceuticals, pesticides, herbicides, and a wider range of harmful elements than any other water ionizer. Filters should be changed every thousand gallons or one year, whichever comes first. [2 points]
It can be hooked up to a sink with a diverter, but because the water cell is the strongest of all other water ionizers, it can be successfully hooked directly to the plumbing, including undersink installation if you have the proper kit (faucet) for that. [2 points]
It has a limited lifetime warranty. After 5 years you may have to pay for labor. However, at Alkaline Water Plus we will extend your labor-warranty to 10 years for you at no extra charge if you request it as part of your purchase. [2 points]
It has continuous-cleaning of the water cell. This means the quality of performance is expected to be like-new for as long as you use it. [2 points]
The manufacturer is one of the top-three in the world. [1 point]
The power-levels can be customized to your water and your preferences. [1 point]
Price: $2395.00
11 points
Smart 9P
The Smart 9P water ionizer features the following:
It gets a range of ORP (oxidation reduction potential) to over -800 [1 point]
It produces over 1.6 ppm of molecular hydrogen, which is as high as one can get at my (St. Louis) atmospheric pressure. [1 point]
The filter is removes heavy metals and chemicals, but leaves the good minerals in. Filters should be changed every thousand gallons or one year, whichever comes first. [1 point]
It is meant to be hooked up to a sink with a diverter and not meant for constant pressure or undersink installation. [1 point]
It has a limited lifetime warranty. After 5 years you may have to pay for parts. [1 point]
It has continuous-cleaning of the water cell. This means the quality of performance is expected to be like-new for as long as you use it. [2 points]
The manufacturer is one of the top-three in the world. [1 point]
The power-levels can be customized to your water and your preferences. [1 point]
Price: $1595.00
9 points
The Enagic K8
It gets a range of ORP (oxidation reduction potential) to over -800 [1 point]
It produces over 1.6 ppm of molecular hydrogen, which is as high as one can get at my (St. Louis) atmospheric pressure. [1 point]
The filter removes heavy metals and chemicals, but leaves the good minerals in. Filters should be changed every thousand gallons or one year, whichever comes first. [1 point]
It is meant to be hooked up to a sink with a diverter and not meant for constant pressure or undersink installation. [1 point]
It has a 5-year warranty. After 5 years you will have to pay for both parts and labor. [1 point]
It has cleaning of the water cell periodically, but not continuously. This means that you will need to purchase and use the Enagic cleaning cartridge every few months if you want the quality of ionization to remain high. [1 point]
The manufacturer is one of the top-three in the world. [1 point]
The power-levels cannot be customized.
Price: $4995.00
7 points